Home Improvement Loans:
Choose to Improve Rather than Move
Latest data released by Post Office Money shows that homeowners collectively spent £295bn in home renovation in the last 5 years. This led to an increase of £40,000 in the overall property value.
The growth of house prices has slowed down over the past few years. And, therefore, more and more homeowners are getting inclined to the idea of improving their home to add value to their property. Doing so will significantly increase the market value of their home.
Regular upgrades and renovations allow the homeowners to craft homes that echo their necessities and personal taste.
According to the NAEA Propertymark (National Association of Estate Agents), the number of homeowners choosing to invest in their existing property instead of moving out has rocketed in the past five years.
Home Improvement Loans: Homeowner's Go-to Option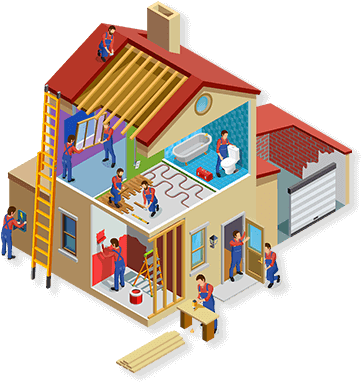 This is one of the most popular forms of unsecured personal loans in the UK.
Home improvement loan
is a short-term loan, which can be borrowed for making improvements in a residential property. The amount can be used in renovations such as alterations, maintenance, repair and beautification of the property, which will lead to increase the property value.
Housing Statistics for January 2019
The average price of a property in the UK was £228,14.

The annual price change for a property in the UK was 1.7%.

The monthly price change for a property in the UK was -0.8%.

The monthly index figure (January 2015=100) for the UK was 119.7.
Dwellings by Tenure-2017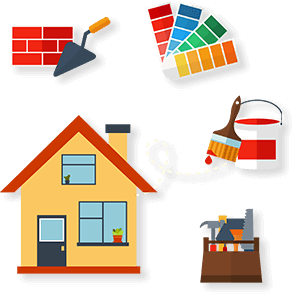 In the year 2017, there was an estimated dwelling of 23.9 million in England including vacant and occupied homes. Out of these, 15.1 million i.e., 63% were occupied by their owners, 4.8 million i.e., 20% were rented privately, 1.6 million i.e., 7% were used by local authorities, and 2.5 million i.e., 10% were housing association homes.
Consider the data given below in pictorial representation for easy understanding:
ALL DWELLINGS 23.9MILLION
Owner Occupied
Local Authority
Housing Association
Private Rented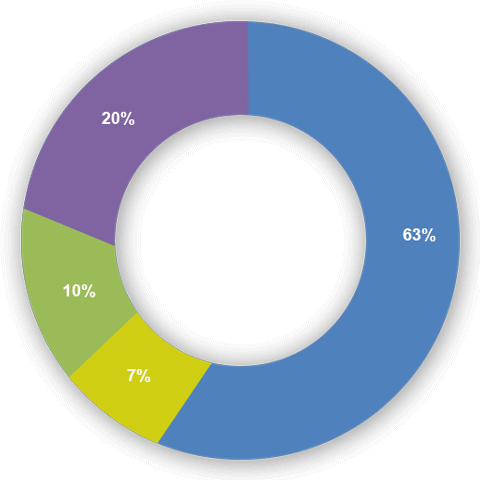 House Prices and Brexit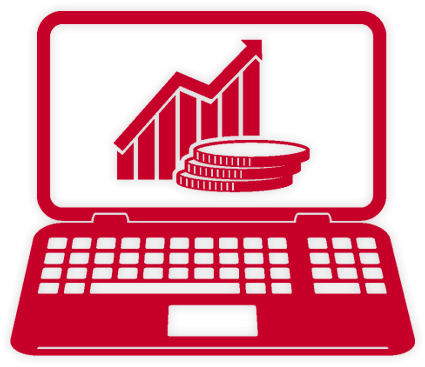 Following the referendum in June 2016, the prices of house in the UK did remain the same for a while. However, with
Brexit
looming over, house prices dropped from a peak of £232,797 in August to £230,630 in November, in 2018.
A slight recovery was observed in December 2018, but they fell down again in January 2019 with the latest ONS House Price Index reporting the average UK house price as £228,147.
ANNUAL HOUSE PRICE GROWTH, 2013-2018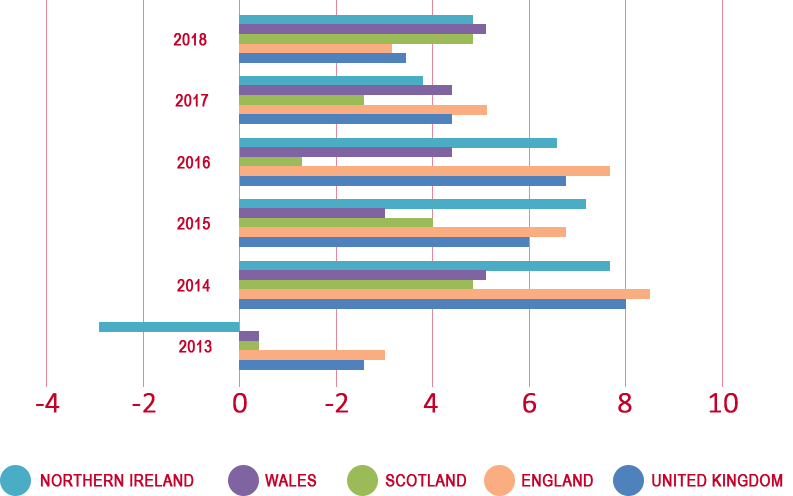 Home Improvement: The New Trend in the UK Market
Rather than upgrading home by moving to a new place, many homeowners in the UK are choosing to improve their current place of residence. Research conducted by Post Office Money found that homes with such improvements were on the market for more than 10% higher than the average asking price.
Key Findings of the Research
Upgrades and improvements increased the value of the property by £40,000.
Average value of property changed from £210,000 to £250,000.
Only 5% of homeowners who did upgrades had the intention of moving.
28% thought that improvements would increase the overall property value.
59% had a reason of improving their home's appearance.
Sometimes, it becomes difficult to manage additional expenses and that is how a home improvement loan can be helpful. It's easy, convenient, and accessible.
Unsecured home improvement loans
do not require any collateral to be used in the process. Therefore, give the love your home deserves!
Cost of Moving House in 2018
The latest research done by Compare My Move has found that the average UK homeowner spent more than £10k when moving their home. And first-time buyers spend £1,761 on extra moving costs adding 4 months of saving.
How to Maintain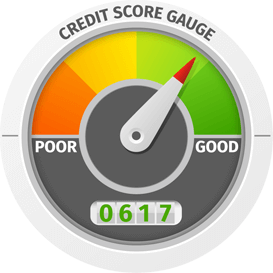 Credit Score While Borrowing?
There are several benefits of maintaining a good credit score such as having the benefit of being offered a lower interest rate on the loans that one opts for. A good credit score helps an individual to save money on a wide range of services. LoanTube has listed a few tips to help maintain the credit score to be fit and in shape:

Keep paying bills on time. Any bill, if unpaid, could wind up on your credit report.

Refrain from applying for new credit as multiple credit checks also impact the ratings.

Know your credit report inside out. A single error can lead to a drop in the score.

Manage your debt efficiently and responsibly. Lower the debt, higher is the credit score.