High level of debt is unmanageable and damaging. We often struggle with our finances due to reckless spending behaviour that leads us to borrow more than we can afford. And reckless spending leads to reckless borrowing. We keep adding to our debts rather than paying them off. But how do you know that the debt has gone from good to bad? In this blog, we will talk about strategies and tips to help you defuse the debt. ⭐Debt Consolidation ⭐Personal Loans
Managing your finances smoothly is an act that depends on your spending habits, borrowing habits and the lifestyle you maintain. Some of us borrow personal loans or use our credit cards or overdrafts when we are running short of money. We repay the borrowed on time to avoid getting into any financial mess. But what if we fail to repay the personal loan that we have taken? What if we cannot manage to make timely repayments on our credit card? The answer is quite simple – the debt gets piled up. We procrastinate the repayment and one day we find ourselves staring at the debt mountain.
                We panic and we try to find out every possible option to help us tackle the problem of debt. One such possible option to tame your unmanageable debts is debt consolidation. It is an effective way to get rid of all your debts. Let us learn more about how it works.
In this article, we will discuss:
How much debt is too much?
Debt statistics of the UK
5 ways to keep your debt under control
What to do if you have existing debts?
What is a debt consolidation loan?
5 steps to consolidate your debts with a personal loan
How LoanTube can help you get the best rate for a debt consolidation loan?
How much debt is too much?
Managing money is a critical skill that we must acquire. Minute mistakes can muddle your finances, which will impact your physical and mental health alike. Not assessing your financial condition may add to your woes. But how do you know that you have too much debt? Is there a way to determine that your debts are way more than you can handle?
Here are a few signs that indicate financial turbulence:
1. You pay your bills late
This is the most obvious and clear sign that you are not doing well financially. If you are not able to pay your bills on time that means you are struggling with your finances. Paying late adds up to your debt. And gradually, the debt mountain gets bigger making things more difficult for you. Keep an eye on how you are doing with your monthly bills and if you feel a slight deviation in your repayment behaviour – rejig your financial plan.
2. You have no idea about your outstanding debt
If you have intentionally ignored your debt that means you are scared to understand your financial condition. You do not want to face the situation you are already in. You are simply escaping or running away from your money problems. Doing so may provide you with temporary relief, but later on, things get worse. It is better to keep your debt level low so that you can manage to repay the outstanding that you owe.
3. You have trouble sleeping
Sounds weird? But it's a fact. If you are facing debt issues, it might lead to loss of sleep and concentration, which will also impact your work performance. You keep tossing and turning while thinking about how to manage your bills. A lot of studies have shown how sleep deprivation leads to mental health issues. Taking care of your finances builds a better lifestyle that yields great results.
Let us now understand how the households in the United Kingdom are doing with their finances.
Debt statistics – UK
The pandemic has hit people all over the world – financially and mentally. We all are trying to cope up with the "new normal" while juggling with our finances. In June, households have paid off record £7.4 billion in credit and personal loan debt. Does it mean that the debt crisis of Britain is winding up?  While another recent survey has revealed that a quarter of parents have dipped into their children's savings since the lockdown started. It further revealed that an average of £17 million a day was taken out and this figure may witness a surge in the future.
Let the numbers talk.
At the end of July 2020, people owed £1,681 billion, which has increased by £28.4 billion as compared to July 2019.
| Type of Personal Debt | Total Personal Debt | Per Household | Per Adult |
| --- | --- | --- | --- |
| Secured (Mortgages) | £1,742.8 billion | £52,931 | £27,960 |
| Unsecured Consumer Debt | £207.9 billion | £7,471 | £3,947 |
| Of Which, Credit Card Debt | £62.3 billion | £2,238 | £1,182 |
| Grand Total (July 2020) | £1,680.6 billion | £60,403 | £31,907 |
Here are some more startling numbers: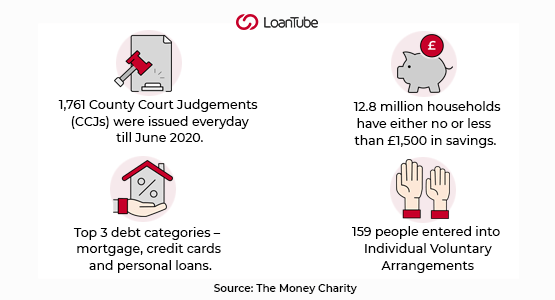 5 ways to keep your debt under control
Debt is an inevitable part of our life. Either we are planning to step up the property ladder or we want a new vehicle, taking out a loan is the only answer if we do not have money to pay upfront. And saving for such huge amounts may take a lot of time. However, piling up unnecessary debt can disturb the way you function. And it's not easy to keep your debt level low and manageable all the time. However, there are various ways that you can adopt to track your finances.
Listed below are 5 ways that can help you keep your debt under control:
1. Make a budget
Before you start anything, you need to have a planned budget. Budget is a cringe word for many of us. However, people who are financially independent and who manage their money smoothly follow their budget. It helps in keeping a track of the money that you earn. A detailed budget will also help you understand where you are going wrong with your money. Write down all your expenses in one place and filter out the unnecessary expenses. In that way, you will be able to understand and control your spending.
Learn how to create a monthly budget.
2. Prioritize your repayments
Once you have an idea of your finances, you can easily plan out your repayments. Not paying debts on time and in full will increase your debt load. Sort out your debts and pay the expensive ones first. Expensive loans will attract more in interest charges. So, if you pay off the expensive debts first, you are more likely to stay on track with your repayments and finances.
3. Keep making minimum repayments
If you are not able to pay off the entire outstanding that owe on your credit card, at least pay the minimum repayment amount. Not paying on time will impact your credit score. Late payments will show up on your credit report and your profile may be considered as risky by the lenders. So, the next time when you apply for a loan, you may not get loans at a favourable rate of interest.
4. Build an emergency fund
Most of us do not pay enough heed towards building an emergency fund. A safety net is an essential financial tool that will help you in times of need. So, rather than going out and borrowing a personal loan from a direct lender, you can dip into your savings. That way you will not have to pay the interest rate and you can refill your savings according to your financial situation.
5. Don't apply for new loans
This is the best way to stay afloat. More debt will only create more financial troubles for you. A credit check will be conducted by the lender or credit card company every time you apply for a new loan or credit card. Hard credit checks will knock off a few points from your credit score. Also, if you fail to manage the repayments on time, the lender may take legal action to recover the money you owe to them. If you receive a County Court Judgement (CCJ), it may stay on your report for quite a long period.
Learn more about County Court Judgements.
What to do if you have existing debts?
Debt is not a problem as long as you know how to manage the repayments deftly. Learning some basics of personal finance may help you prepare a financial plan. We do not accumulate debt with the intention of not repaying it. However, emergencies can occur anytime and without a financial cushion – it becomes a nightmare.
If you have accumulated a lot of debts and you are trying to get rid of them fast, then there are many ways in which you can do it. Try these 5 easy ways to tackle your debt crisis and come out it stronger and better.
1. Cut down your monthly expenses
If you are considering to pay off your debt fast, then this is the primary area that should have your attention. We often spend more than our necessities. Sometimes, we even go a little further by spending from our credit cards on things that we cannot afford. Such spending habits are dangerous for your financial health. Prepare a budget and reduce your monthly outgoings. Spend only on the essentials at least until you pay off all your debts.
2. Pick up a side hustle
Take out some time after your usual 9 to 5 grind and pick up a side hustle to earn a little more. Even if we earn a decent amount, we have liabilities in form of debts, mortgages and overdrafts. Repaying these debts on time will need money. And if you are already in a financial crunch, its better to work a little extra to get sufficient funds for timely repayment.
Here are 3 amazing ideas for starting a side hustle that may want to explore.
3. Consolidate your debts
You can also borrow a personal loan to roll all your debts into one. But this option is feasible only if you have multiple debts. If you manage to get a personal loan for debt consolidation at an interest rate that is lower than the overall interest rate that you are paying for all your existing debts – then you are likely to save some money.
Read 5 myths related to a debt consolidation loan.
4. Refinance your loan
Refinancing a personal loan may help you get a new loan at a favourable rate of interest. So, you can easily replace your current loan with the new one. A loan refinancing is not the same as a debt consolidation loan. With a debt consolidation loan, all your existing debts are merged into one and instead of making multiple payments, you are expected to make a single repayment. While a loan refinancing simply means that you are replacing a single loan with a new one that has a lower interest rate.
Read 5 reasons to refinance a personal loan.
5. Use an authorised overdraft
Reach out to your bank for availing an overdraft. An overdraft arrangement agreed with your bank allows you to withdraw money even with insufficient funds to cover the requested amount. You are responsible for repaying the used amount within an agreed period like any other personal loan. Talk to your bank and understand the terms and conditions that are associated with the overdraft. Some of the banks also charge an additional fee apart from the interest rate.
Read: The latest changes in overdraft regulation
What is a debt consolidation loan?
A debt consolidation loan is a personal loan that can be used to consolidate all your existing debts into one. It does not mean that you will not have to repay your existing debts. It simply means you can roll all your debts into one single bundle. So, instead of paying different loans, you can pay back one single loan against them all.
However, if you fail to repay the loan – your credit score will be impacted. A low credit rating will be a major blocker when you apply for any financial product in the future. Also, the lender has the right to take legal action against you so that they can recover the amount you owe to them.
5 steps to consolidate your debts with a personal loan?
A debt mountain is a financial nightmare that none of us would like to witness ever. Consolidating debts is an easy and planned way to get out of the mess that is ruining your finances. Borrowing a personal loan for consolidating debts is a viable option if you can manage to repay it.
Borrowing a debt consolidation loan means you are taking additional financial responsibility. To clear your debt stack, you need to extremely careful of your money spending habits. Here are 5 steps to help you plan to consolidate your debt with a personal loan:
1. Calculate your outstanding
Create a list of all your outstanding debts including credit cards, personal loans, overdrafts, mortgages and other debts that you have. Because the debt consolidation loan that you want should cover all of your debt amounts.
Compare the overall interest rate that you are paying towards your debt to the new loan that you are about to take up. Draft a repayment plan with a budget outline and keep some room for adjustments if needed.
2. Review your credit report
Your credit score is an important factor that is taken into consideration by the lenders while assessing your loan application. If you have an excellent credit score, you will get loan offers with a low-interest rate. Reviewing your credit report before applying for a loan will help you get an idea of the offers that you may receive and your eligibility to borrow.
There might be some errors in the report as well. Scan your report thoroughly and if you spot any mistake, flag it to the Credit Reference Agencies for correction.
3. Compare loan offers
Before choosing a personal loan, it is wise to compare different loan offers from multiple lenders. Different lenders have different lending criteria and therefore, the rate of interest they propose may vary.
If you compare different products, you can choose a debt consolidation loan with a low-interest rate.
Learn more on how LoanTube can help you compare loans with real interest rates.
4. Apply for a debt consolidation loan
After assessing your financial circumstances and finding out the lender that you need to apply with – gather important documents that will be needed. Before signing on the dotted line, ensure that you have checked the fine print thoroughly.
Read the Terms & Conditions carefully so that you are aware of the deal you are entering into. If you find anything on the document that you do not agree with, contact the lender and discuss your issue to sort it out.
5. Make timely repayments to close the loan
Once you have the loan, you will have to be strict with your budget. Make the repayments on time and in full. If you somehow fail to meet the repayments, it will impact your credit score. In addition to this, the lender may take legal action against you and you may receive a CCJ.
Also, if you repeatedly fail with the repayments, it will add to your debt woes. The debt mountain that you have will keep growing making it difficult for you to manage.
Explore these 7 amazing tips to manage to repay a personal loan efficiently and on time.
How LoanTube can help you get the best rate for a debt consolidation loan?
LoanTube is a new-age personal loan comparison platform. What makes us different is the simplicity, convenience and the transparency that it provides. You can compare multiple offers from lenders at no cost.
But this is not what we are all about. There's more. When you compare loans with LoanTube, the rate that you will be proposed is the rate that you will get when borrowing the loan. We provide a rate-lock guarantee that helps you in preparing yourself financially before taking out a loan.
From applying for a loan to getting offers after a thorough assessment of your credit profile by the lenders – it just takes a few seconds. Blink your eyes and there you go!
Compare Debt Consolidation Loans with Real Interest Rates