Consumer credit has always been a significant component of the economy of the nation. This article will help you delve deeper into the insights and data on the impact of price capping on HCSTC in the United Kingdom. ⭐Data and Insights ⭐FCA Price Capping on Payday Loans
The year 2015 was instrumental for the unsecured lending landscape of the United Kingdom as the financial regulator introduced a capping system to protect consumers from being exploited by sky-high rates of interest. Before that the High Cost Short Term Credit were not regulated by the Financial Conduct Authority (FCA). Such financial products were organised under the Consumer Credit Act by the Office of Fair Trading. The city watchdog also took into consideration other forms of lending that includes rent-to-own, home collected (also known as doorstep loans), catalogue credit, store cards, overdrafts, and buy-now-pay-later offers. Consumer credit has always been a significant component of the economy of the nation as it provides greater flexibility over the spending. However, consumers additionally face a risk of piling up unmanageable debts, and that is when they decide to borrow another loan as a stop-gap until their payday.
In this article:
High Cost Short Term Credit: Brief Explanation
Key Statistics
Reasons for Applying for HCSTC
Changes in the Financial Market
Need for Regulation
Alternatives to HCSTC
High Cost Short Term Credit: Brief Explanation
According to the FCA, a High Cost Short Term Credit is an unsecured loan that allows a borrower to repay it within 12 months, and the Annual Percentage Rate (APR) is equal to or may exceed 100%. These loans do not require any mortgage, and hence, they are unsecured. It has two categories – (i) Payday Loans, and (ii) Short-term Instalment Loans. When an individual borrows a payday loan, he has to make the repayment within a month. While with a short-term loan, the borrower can repay it within 12 months. The Parliament gave the duty to the FCA in December 2013 to propose a price cap on these loans to shield the consumers from unreasonable charges. On 2 January 2015, the regulator introduced a price cap and other measures to regulate the unsecured lending market. It published in July 2019 that 760,000 borrowers saved around £150m per year after the implementation of the price capping.
Key Statistics
In a report published by the FCA on 24 January 2019, it revealed the new findings and borrower insights along with the data that they collected to measure the consumer behaviour towards the HCSTC after the implementation of the capping.
29.8% of loans are borrowed by tenants
£284 is the mean loan value of Greater London
Central and Greater London accounts for 15% of the total number of loan originated
In Q2 2018, the total value of loans reached £338,179
Consumers borrow £1.3 billion per year and repay over £2 billion
North West has the highest number of loans per head of adult population (125 per 1,000)
UK Geographical Area Analysis
Total number of loans per UK geographical area from July 2017 to June 2018
| | | |
| --- | --- | --- |
| AREA | NUMBER OF LOANS | % OF TOTAL |
| Central and Greater London | 796,202 | 15.0% |
| North West | 734,835 | 13.8% |
| South East | 641,315 | 12.1% |
| East of England | 484,780 | 9.1% |
| Yorkshire and The Humber | 458,486 | 8.6% |
| West Midlands | 457,896 | 8.6% |
| Scotland | 454,922 | 8.6% |
| South West | 375,752 | 7.1% |
| East Midlands | 331,321 | 6.2% |
| North East | 256,383 | 4.8% |
| Wales | 212,299 | 4.0% |
| Northern Ireland | 109,900 | 2.1% |
Reasons for Applying for HCSTC
The Financial Conduct Authority conducts extensive consumer research to understand the experiences that will help them to reform the industry. Their findings identify the borrowers into three distinguished groups – (i) Survival, (ii) Lifestyle, and (iii) Reluctant borrowers. Each of the group has different reasons to apply for an HCSTC.
Survival Borrowers: Individuals in this group do not have perfect financial circumstances. They feel that to survive (or say to manage their regular expenses) they have to borrow money. They have a low level of income due to which they feel that they do not have any other option.
Lifestyle Borrowers: Individuals in this group have sufficient income to manage their everyday expenses. However, they borrow money to purchase big-ticket items. In addition to that, they also feel confident about meeting the minimum repayment each month.
Reluctant Borrowers: Individuals in this group borrow mainly from banks and credit cards rather than from private lenders. Apart from that, they restrict their credit card expenses to pay off the existing debts.
Please note that an individual's group may vary depending on their changing circumstances, further addition of debt, and many other factors.
A few important reasons due to which people tend to borrow an HCSTC are listed below:
A sudden drop in income
Overspending
Change in circumstances such as loss of job
Increased outgoings
To make "one-off" purchases
Manage day-to-day expenses
To make home improvements
Finance a wedding ring
Fund a vacation
Pay medical bills
To consolidate debts
Changes in the Financial Market
To protect the consumers from excessive charges, the FCA implemented price cap to HCSTC – who struggle to repay their debts. It further estimated after 2 January 2015 – 11% of borrowers will not have access to payday loans. The number of loans and the amount borrowed declined by 35% within the first 5 months of FCA regulation.
Price Cap
Initial Cost Cap of 0.8% per day: The interest and fees for all High Cost Short Term Credits must not exceed 0.8% per day of the original amount borrowed.
Default Fees Capped at £15: If the borrower fails to repay the loan on time, the default fees must not exceed £15. Interest on unpaid balances and default charges must not surpass the initial rate.
Total Cost Cap of 100%: Borrowers will never pay more in fees and interests than the original borrowed amount.
These measures are designed to protect consumers. However, it also means that more people may become ineligible for applying for a loan. Due to ineligibility, they may take loans from illegal lenders who are not authorised by the financial regulator. Therefore, it researched to understand the impact of the price cap. A few other changes that were introduced are:
Warnings of risk to be included in financial promotions
Using Continuous Payment Authority (CPA) only twice to collect payments
Limiting the number of times a loan can be rolled over to twice
Lenders will have to provide information about how to become debt-free
Even after the capping, the FCA revealed that loan volumes increased as their Product Sales Data recorded over 5.4 million loans originated in the year to June 2018. The lending volumes followed an upward trajectory over the last 2 years. However, the average Annual Percentage Rate (APR) is stable with a mean value at around 1,250%. The FCA reported that 800,000 fewer people took out a payday loan over an 18 month period, a £40 drop in average loan charges, and 8% fall in default rates. The rate of acceptance of loans also fell to 30% from a high 50% in the middle of 2015.
Total number of HCSTC loans per 1,000 adults (Jul 2017 – Jun 2018)
| | |
| --- | --- |
| AREA | LOANS PER 1,000 ADULTS |
| North West | 125 |
| London | 114 |
| South East | 87 |
| East of England | 97 |
| Yorkshire and the Humber | 104 |
| West Midlands | 97 |
| Scotland | 101 |
| South West | 82 |
| East Midlands | 85 |
| North East | 118 |
| Wales | 83 |
| Northern Ireland | 74 |
Need for Regulation
After the economic meltdown of 2008, the payday loan industry picked up the pace and grew rapidly. Mainstream lending tightened their criteria due to which millions of people turned towards High Cost Short Term Credit. Poor lending practices and astronomical rates of interest of these products led many borrowers to financial difficulties. One of the UK's leading debt charity organisation StepChange Debt Charity – reported an 82% increase in the number of people struggling with their payday loan debt in 2013. High-interest rates and charges, rollovers and repeat borrowing meant that borrowers felt their payday loan debts went beyond their control. Debt advice agencies witnessed a barrage of people coming to them for help with their payday debts. For those financially vulnerable consumers, the authorities needed to put some effective measures in place. Apart from that, they believed that such rules will help them to prevent other consumers from the struggle.
                In a recent report released by StepChange, it reported a small rise of only 1% in the proportion of new clients in 2018 who faced difficulty with High Cost Short Term Credits. However, it also published that the average short-term high-cost credit debt amount has also increased from £1,519 in 2017 to £1,755 in 2018.

Alternatives to High Cost Short Term Credit
Payday loans became a household name in the United Kingdom after the financial crisis of 2008. The market was disrupted by wrong lending practices that led consumers to fall into a debt trap. The intervention by the FCA was meant to tackle the harm that was identified. Many people borrow money because lower-cost credit option is not available to people who actually need it. An individual who has a low credit score always receives options of loans, which have high rates of interests. In addition to that, most of the people do not see any other viable alternatives. In a survey commissioned by the YouGov – a British international internet-based market research and data analytics firm – consumers of HCSTC were asked to choose an alternative of borrowing had a payday loan not been available and the consumers were allowed to choose multiple answers.
In a recent paper published by the FCA, they have mentioned a few considerable and possible sources of alternatives to HCSTC.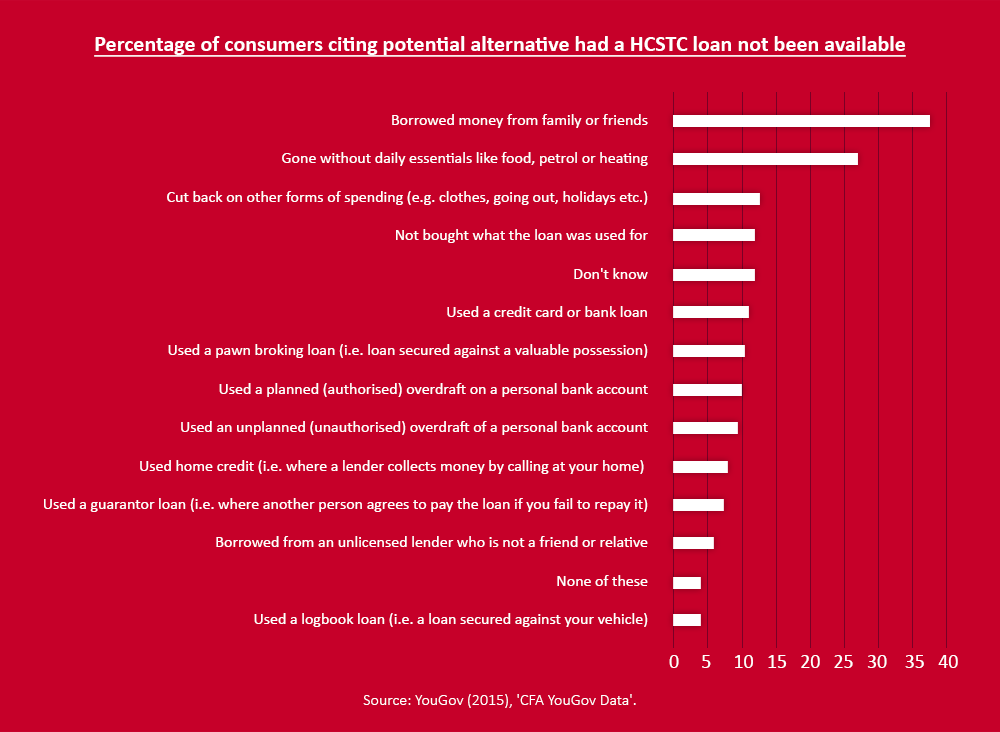 Credit Unions
These are financial cooperatives which are controlled by their members and who provide credit to their members at a lower interest rate as compared to other financial services. There are more than 400 credit unions in the UK that are lending more than £1.5 billion to their members. The FCA has called the government to review the credit union rules to provide vulnerable consumers with a feasible alternative to payday lenders. These credit unions offer loans as low as £50. The financial regulator has the intention of helping high-risk consumers who often end up borrowing expensive payday loans to make ends meet. Credit unions can charge 42.6% APR, which is the maximum in the UK and in Northern Ireland the maximum APR that can be charged by the credit union is 12.7%. The Association of British Credit Unions Limited welcomed the recommendation of the FCA and said that liberalising the Credit Unions Act will allow them to play a significant role in disrupting high-cost credit.
Community Development Finance Institutions
Also known as CDFIs – are not-for-profit lenders who provide loans to individuals, small businesses who find it challenging to get a loan from mainstream lenders and banks. Their focus is to boost the local employment, and that is the reason they mostly lend to small businesses. In addition to that, they also offer consumer loans to people who do not have a perfect credit score. There are almost 50 CDFIs in the United Kingdom, out of which only 9 offer Personal Loans to consumers. The report states that in the financial year 2017-18, they lent £26 million (approximately) to individuals.
Majority of people lack awareness of various alternatives that may help them when they face a financial crunch. Consumer awareness plays a critical role in redefining the High Cost Short Term Credit landscape. Consumers have a significant role in this industry and hence, they must do their part as well. They must be aware of the consequences when they fail to meet the repayments. Responsible borrowing should also be promoted and highlighted in the same manner responsible lending is promoted to curb the issue. The FCA is vigilant about the situation and hence, they try to improve the regulatory environment for the protection of the consumers. They have exempted the FCA annual consumer credit fees for all the community finance organisations and credit unions from April 2019. Lenders must assess the creditworthiness of borrowers before giving their final nod to their loan application. Applying for a payday loan is considerable only when an individual is facing an extreme financial crisis, which needs immediate monetary attention and there are no other options left apart from borrowing a loan for a short period. Repeated borrowings may lead consumers to a debt trap – and they must contact debt advice service agencies in such cases.