A certificate of Deposit or CD is a great financial tool to earn interest on your money. Your money gets locked up for an agreed-upon period, during which you earn significant interest. But what, essentially, makes CDs different from other investments?
In this article, we'll dig into the concept of CDs and learn how CDs work.
What is a certificate of deposit?
A Certificate of Deposit or CD works like a savings account. CDs can also be referred to as Fixed or Time Deposits. Most financial institutions that offer fixed interest payment for a defined period, provide the option of CDs.
A CD allows the customer to earn interest from the bank, in exchange for depositing a lump sum investment with that bank for a specific time.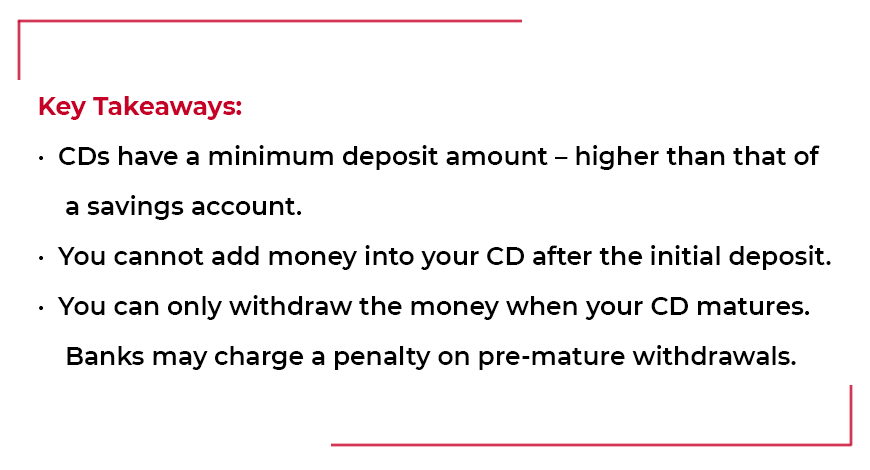 How do CDs work?
CDs are conventionally tenure-based deposits. You enter an agreement with your bank or Credit Union to let them keep a lump sum of your money. In exchange, the bank offers you to earn interest on this deposit, usually higher than that of a savings account. This answers why CDs are better for people with more breathing room in their finances, to pile up money at one source for years at a time. Although people can also avail of short-term CDs.
Customers of average means bear a lower risk as their CD accounts don't decrease in value. The minimum deposit for a CD account varies among different banks. For instance, you can open a CD account with HSBC UK, with a minimum of £2,000 to a maximum of £1 Million. Even the loan term can range from a few days to 10 years, based on the amount of money deposited.
The interest on your CD may be withdrawn at any point in time. But if you wish to withdraw part of or all of the principal, your bank can charge you a penalty, depending on the deposit's monetary value. Thus, people usually withdraw money from a CD account past the maturity date.
Can you lose your money in a CD?
No. CDs are insured by FDIC, unlike some other means of investment such as stocks and bonds, where you risk losing both, the principal and the interest. Even though long term CDs offer a higher Annual Percentage Yield (APY), the ROI on CDs are relatively lower than other investments.
Are CD's a good investment?
Every investment plan has a set of pros and cons. The important part is to weigh them both and make an informed decision. Below are some factors that give CDs an edge over other investments:
Financial security: CDs up to a certain amount are insured by the FDIC. This indicates that a CD account holder will never lose their principal. Therefore, this type of investment, unlike stocks or bonds, is perfect for a risk-averting investor.
Flexible Terms: You can choose the tenure of your deposit as per your convenience. If you're not comfortable with socking away your money for a long time, you can choose a short term CD.
Higher Interest rates: Banks offer high-interest rates of CD accounts, than savings and checking accounts. Interest earned on CDs is also higher than money market accounts.
Fixed and Predicable returns: A CD has a maturity date and fixed return. This way the investor will know how lucrative the CD is and when will they be able to enjoy their returns.
CDs allow you to shop around for good deals: You can compare offers from different banks and choose the account offering the highest rate. Often, small banks that require more funds to sustain, offer higher rates. Moreover, a significantly larger CD can fetch you a better interest.
What is better than a CD?
If you don't want your money to be locked away for too long, consider these alternatives to CDs:
High-Yield Bank Accounts: These are money market accounts or savings accounts that allow you to withdraw money at your convenience. The APYs on these accounts are on par with that of CD accounts. 
Short-term Bonds: These low-cost mutual fund bonds can serve as a great alternative to CDs. Additionally, banks don't levy a pre-mature withdrawal penalty for these bonds. So you have hassle-free access to your money, whenever you need it.
I-Bonds: I-Bonds are designed to align with the fluctuation in inflation. Thus, the interest on these bonds changes every 6 months. The money you invest in an I-Bond is tax-deferred. Only the earned interest gets taxed when you redeem it. An I-Bond must be held for at least a year.
Dividend Stocks: Risk-averse investors who prefer more bonds, generally avoid investing in stocks. However, some reliable and steady dividend-paying stocks can yield higher returns than CDs, often up to 5%.
How do you put money in a CD?
You can easily open a CD by either applying online or reaching out to a financial institution – a bank or a credit union. While rate shopping for CDs, thoroughly research your investment logic. Ask your financial advisor if a CD can benefit your investment plan. Learn about the penalties involved and alternatives before finalizing anything.
When is CD a good idea?
Different people have different financial strategies. For instance, you have extra incoming cash that you are comfortable putting away for a while. You might need this money in a few years. So a CD can be a great way to set aside this money while earning an interest out of it.
Some of us, on the other hand, aspire to budget and save, but can't bring that plan into action. If you too lack the discipline for money management, CDs are a good option. Such a plan will allow you to set aside some savings while getting a return on the investment. CDs come with decent returns, minus the risk of downturns due to stock market volatility.