It is not always a good decision to compare personal loans based on interest rates. That is because you can also run into credit providers who charge fees, with origination fees being the most common. Any additional fees and charges are included in the APR. Based on your lender, these payments can differ in amount and how they are added to your debt. Understanding what to expect ahead when you borrow a personal loan will help you equate lenders and find more favourable quotes.
What is an origination fee?
A loan origination fee is a one-time upfront charge that you have to pay the lender for processing your loan application. In a way, you can say that it is the processing fee that lenders typically charge. Some lenders may charge separately for preparing, processing and underwriting while some lenders may collate all these into one – loan origination fee.
4 major factors are taken into consideration when calculating an origination fee on a personal loan:
Loan amount: If you are borrowing a large amount of money, the origination fee that you will be charged may be low. But the fee may increase if the loan amount is small.
Loan term: The longer the term of the loan, the more you have to pay as an origination fee. Short-term loans attract low fees.
Credit score: Borrowers with a low debt-to-income ratio generally qualifies for a low origination fee. Your credit score helps the lender decide the origination fee.
Co-signor: If your credit score is not good but you have a co-signer for your loan application who has a stellar credit rating, you may expect a lower fee.
How does a loan origination fee work?
A lender may decide to charge you an origination fee upfront. But that's not the case every time. It may vary from lender to lender. Some lenders may add it to the principal amount that you have decided to borrow. It may increase the overall cost of your borrowing as you will have to pay interest on the total amount which now includes the origination fee.
While some lenders may go ahead and deduct that amount from the amount that you borrow. That means you will be getting less than what you had applied for. So, how do you know how much amount you should borrow so that you receive what you had applied for?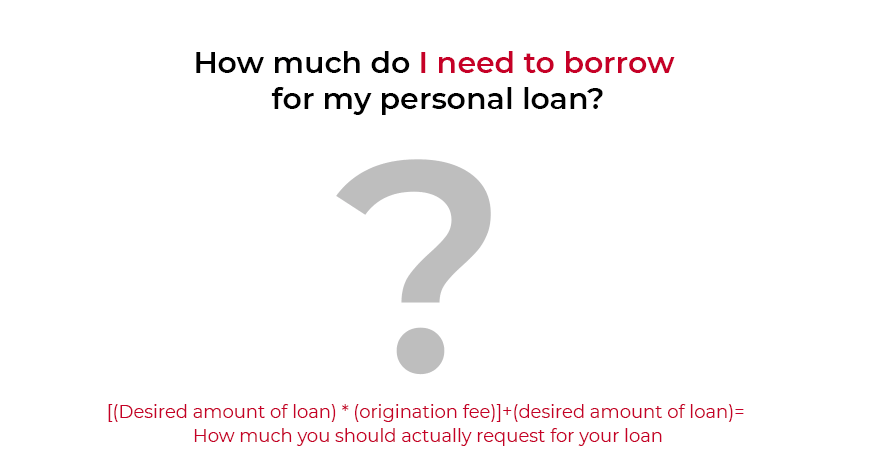 Can you negotiate the origination fee?
The origination fee is charged by the lenders and for this reason, there is no hard and fast rule around how much they should usually charge. When you apply for a personal loan, the lender will extend their Terms & Conditions to you beforehand. So, there is a slim chance of negotiating on the origination fee on your personal loan.
If you have a good credit score, you are in a better position and you may negotiate on the fees. Ensure that you do not agree to any other terms such as an increased loan term or interest rate as that will increase the overall cost of the loan.
Before applying for a personal loan, shop around for lenders who charge a lower origination fee. You may also find lenders who do not charge anything at all to process your loan application. The more offers you compare, the easier it will become to find a loan with a low origination fee.
Is paying an origination fee worth it?
Whether paying an origination fee for a personal loan is worth it or not depends on a variety of factors. Consider the loan term and amount and compare the offer that you are getting with another lender's offer who do not charge an origination fee. Choose the one in which the overall borrowing cost is less.
And while comparing the offers, ensure that you are making the comparison based on APR.
Additional fees to consider
Origination fees could have a significant impact on how much you pay at the end of your loan term. But this isn't the only cost you need to consider. A comparison of the annual percentage rate (APR) is the easiest way to compare the total cost of the loan. This is an expression of the interest and fees you pay over a year.
· Credit report fee
When you apply for a personal loan, the lender will assess your loan application based on your credit profile. The lender may charge you a fee to recover the amount that they have spent to access your credit report from Credit Reference Agency.
· Early repayment fee
Some lenders charge you for making payments before the agreed payment date. It is also termed as a prepayment penalty. If you make an early repayment, the lender may lose the money they would have earned had you continued with the agreed terms and conditions. This is the reason lenders charge a prepayment fee for early payments.
· Late fee
If you do not make repayments on time, you may be charged late fees by the lender.
Choose what's best for you – Look beyond the fees
Understanding how additional fees may add up to a personal loan can save you from paying out extra money while borrowing. But remember to look beyond fees and charges when you are comparing loan offers from multiple lenders. To find a loan that may work best for you, consider the following factors:
· Monthly payment
You should know the exact amount you will have to pay each month towards your debt since it will affect your monthly budget. If you choose a longer loan term, you will have lower monthly repayments. However, longer loan term means you will end up paying more in interest. Use our monthly repayment calculator to figure out how much you may have to pay for a personal loan based on the APR you are offered.
· Compare loans
Do not forget to compare multiple offers before you decide. Explore the market and find the rates that are available to you so that you can choose the best offer. Comparing loans will help you find a competitive loan at the best interest rate. You can use compare personal loans at real interest rates with us.
The cost of borrowing a personal loan can quickly shoot up. Hence, it is important to pay attention to the details of the loan agreement before you sign on the dotted line. Before you start shopping for a loan, check your credit score to see where you stand and whether you're in a position to negotiate on the origination fees.