Ideally, for holidays people employ their income or savings. In this article, know how Brits are using holiday loans for their vacations and how LoanTube can help. ⭐Facts ⭐Apply online
Brits squirt off travelling – whether abroad or staycation- in search of fun. New data infer that the amount borrowed as holiday loans is turning bigger each year. Ideally, for holidays people employ their income or savings. But many people need to borrow to fund their trip. Loan Tube has traversed how Brits are using holiday loans for their vacations.
Brits Love Holidaying!
Holidaying always works as a cure or a stress buster, when we're lost in restless life schedules. It recharges our batteries and rejuvenates our minds with new ideas and creativity. It helps to soothe our wanderlust and is best for the people who are seeking some flashes of peace. With growing pollution, work pressure, and everyday problems of our mundane life, we need rest. And holidays are the perfect remedy for all such situations. Vacationing widens our horizons and helps us to get exposed to new ideas and roads of life.
It is observed that 32% of us go on a vacation to get a tan, 29% to enjoy the vibrant nightlife, 15% to relax, leaving the rest 24% to seize a chance to be independent.
Interestingly, a reference shows that an average Brit family of 4, holidays about 1.6 times a year. Brits typically take around two trips abroad every year. Also, 48% of people are willing to borrow money to go on holiday. Whether that's from a bank, online lender, friends or family.
Moreover, the months with the highest average borrowed amount are – autumn and winter months of October, November, and January.
Loan Amount UK Residents Borrow for Holidays
While the data shows that the average holiday loan amount of a family of four is more than £4,500, a recent survey reported that on average, we're only willing to borrow £1,000 to fund a holiday. The figures also suggest that when it comes to applying for loans, men requested 50% as compared to women.
In terms of the total average amount that an individual borrows per year as a holiday loan is £3500.
It's worth noticing that the most frequent holiday loan amount demanded by a Brit is £1000 or a bit more.
The age demographics represent the holiday adventure seized by an individual Brit. It hangs around 25% each for the age group of 18-29 and 30-39 who quest for adventure, fun, and to relax. While 20% by age group of 40-49 travel to catch back on their fun lives, 18% and 12% by 50-59 and 60+ sequentially travel to meet new people.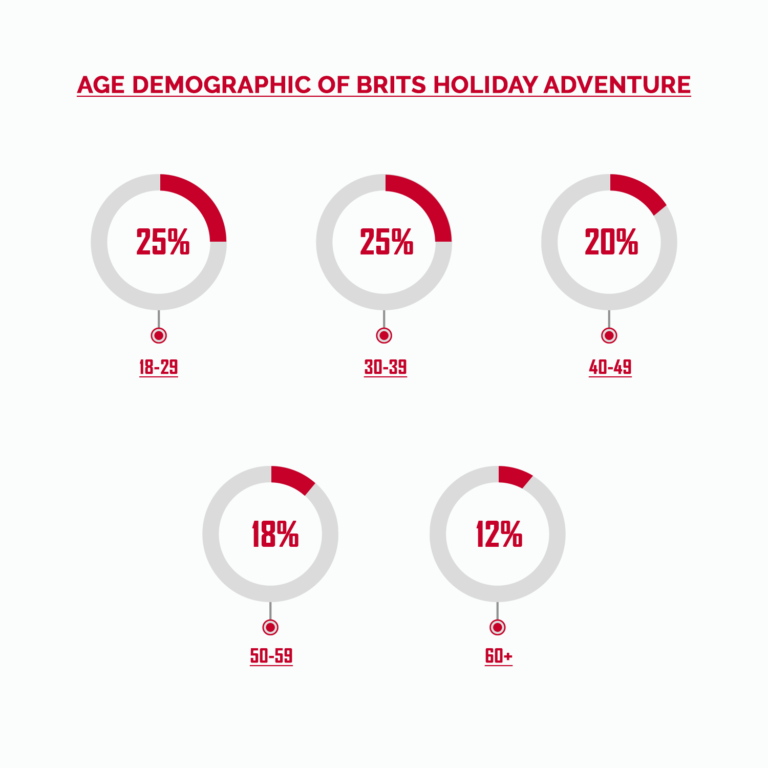 Prudent Borrowing and Practical Budgeting
For holidays, we end up using almost every single penny that we have. Then we discern that there is an urgent need for funds. Holiday loans can serve a splendid option in such situation as it enables us to take a vacation, we wouldn't otherwise be able to afford.
But as with any loan, it's vital to understand the responsibility involved in terms of adhering to the repayments. Also, it's critical not to borrow more than you cannot repay. With a loan, people have fixed repayments. This permits them to budget in advance to ensure they stay on track while covering the entire cost of a holiday.
Whatever the purpose of the holiday loan, it seems many people underestimate how long their debt will take to pay off.
When asked- 40 percent of Brits say they expect a holiday loan to take under a year to pay off – perhaps believing- they would be able to replicate the very process the next year. However, the data collated by the team suggests- Brits actually choose repayment periods without considering any other factors.
Reasons for Taking a Holiday Loan
Holiday expenses can make you feel overwhelmed when you start speculating all the things you have to prepare and purchase. It's important to budget for clothes, travel expenses and food. A holiday loan may be your best play to keeping your budget and your prudence intact this year.
With a bad credit holiday loan, you can dodge using your savings or racking up high-interest credit card bills. It gives you the option to finance holiday expenditures easily with a credit. Moreover, you typically get a longer repayment duration.
Whatever the purpose of the holiday loan, it appears many British holidaymakers use about £2 billion to buy new wardrobes and £1.8 billion to get duty-free products. Also, they miscalculate how long their debt will take to pay off.
The statistics states- 45% of the Brits take a loan to extend their holidays, while 32% aspires to upgrade to all-inclusive. Everyone desires to fly business class and 15%, achieve the same with their loan. The rest 8% use credit to select a higher average accommodation for their holiday destination.
Popular Destinations for Holidays
According to research by ONS, 56% of Brits prefer staycation for vacations, while 40% go abroad. Britons spend the most when they travel to the United Arab Emirates cities- Abu Dhabi and Dubai. The UAE drives extra spending when British vacationers visit, as they spend about £750 for a short vacation and £963 for a longer one. Brit's spend about £504 for extended holidays which extends from 4 to 14 days. Other popular holiday destinations include Spain, India, Canary Island, Egypt, North-Africa, Florida, Cyprus, Caribbean, Portugal, Mallorca, and Crete.
With the falling value of the pound and intensified competition, Britain is becoming more engaging as a tourist destination – for us Brits. In 2018, 57% of us took a vacation in our own country in the most popular cities, which were among the UK staycation destinations. (Express)
Bottom Line
Regardless of the holidays, you take every year- it's always valuable for you as you relax, rejuvenate, and enjoy the time with family and friends.
Some people use their savings to fund their vacations, others rely on, holiday loans. While studying a loan- it's essential to shop around, compare the rate of interest, and choose the best suited.
LoanTube to Compare Holiday Loans
LoanTube is a loan comparison website, which allows the borrowers to weigh and compare holiday loans without any hustle.
REMEMBER- the service arrives at no charge. The borrower DON'T have to take any of the quotations we provide unless it is useful to them. Click here to apply.