We all need extra money at some point in our lives. It could be to repay existing debt, pay for home improvements, buy a new car or invest in something important; money requirements can spring up at any time in your life.
During times like these, we need a loan that will give us a lump sum amount of money and help us out of the situation.
We often scamper through options and look for the one best suited for our situation, and a personal loan is often the option that comes to our mind.
A personal loan often helps you borrow more money than you can on your credit card, and you must repay the amount in easy monthly instalments.
However, a personal loan might not always be the right choice for everyone.
So, it is advisable to take a closer look at all the requirement offers, terms and conditions, and even the monthly instalment amount before taking up a personal loan.
You can also use a loan eligibility checker or a personal loan eligibility checker to know whether you qualify for the loan.
Additionally, a personal loan comes with its own advantages and disadvantages that you must weigh before making a final call. 
In this article, we will tell you everything you need to know about personal loan eligibility, what important things you must look into, whether a personal loan is good for you, and how you can improve your chances of getting a good one. 
What is a Personal Loan?
A personal loan is a lump sum amount of money you borrow from a lender. This amount is then to be repaid over a set period of time, usually between 1 and 7 years.
Typically, the amount of money you can borrow through a personal loan ranges from £1,000 to £15,000. Although, there are lenders who would also lend you up to £25,000.
The interest rates on a personal loan vary according to who you borrow the money from and your total borrowed amount in addition to your repayment time period.
The most competitive interest rates are found for sums above £7,500. If you have a good credit score, you can get great deals. 
Personal loans are also considered unsecured loans as they can be borrowed without having to place an asset against them.
This is why they are considered safer, as you don't stand to lose any of your assets if you fail to repay the amount on time.
However, the interest rates could be higher on personal loans, which means you might have to pay higher monthly instalments. 
When in need of money, taking a personal loan can effectively fulfil your financial needs.
However, taking a personal loan comes with its own pros and cons, and knowing them will enable you to make an informed decision. 
How important is Your Credit Score to Get a Personal Loan?
One of the first and foremost things lenders look at before giving you a loan is your credit score.
This includes your credit card history. This credit score is then used to determine the risk of lending you the money.
It also helps lenders evaluate whether you are eligible for a personal loan, the total amount of money you can borrow, and the interest rate applied.
The higher your credit card score, the more likely you will get a lower-interest loan. 
Usually, lenders in the UK look at the following three main agencies before giving a personal loan – Experian, Equifax and TransUnion.
These agencies collect and utilise data from various sources like lenders, utility suppliers and other publicly available information.
Such information includes how long you have been staying at your current address and your repayment history. 
The credit score is also important as it can be a deciding factor in a lender refusing you to lend money.
This could happen for other reasons also, such as you have recently been declined credit, you have a pending court judgement (CCJ), or the lender feels that you are incapable of repaying the loan.
You can check your credit report to know why you did not get the loan. But fret not, even if a lender refuses to lend the loan, you can still get it if someone agrees to be your guarantor for a guarantor loan.
The guarantor promises to pay the loan if you cannot pay for whatever reason.
The guarantor must know all the terms and conditions and the obligations they will be under. However, the best way to ensure you don't face any issues while wanting to get a personal loan is to improve your credit score.
This will make getting more money at a lower interest rate easier. 
How to Choose a Personal Loan?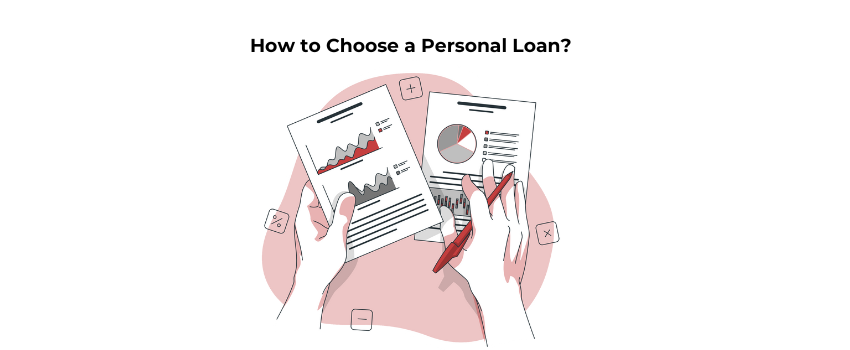 Taking a loan means you not only have the liability to pay a certain amount of money as an instalment every month, but it also means that you additionally have to repay the interest as well.
That is why it is important to choose the right loan to get the money you need while managing the repayment without any financial struggle.
Whether for home improvement, buying a car, making a sizeable investment or purchase, fulfilling unplanned expenses, or consolidating debts, loans can make your life easy.
So, here's how you can make the right choice:
You must ensure what APR you will be charged, so you know how much you will be required to repay.

You must never borrow more than you need.

Unsuccessful loan applications will harm your credit score, something you must be very mindful of as, in turn, it will puncture your ability to get loans in the future.

You must check if the loan has fixed or flexible interest rates. Choose the one that you feel more comfortable with.

An early repayment penalty comes with certain kinds of loans. You must check this factor before finalising a loan.

Check for an arrangement fee.

With the banking sector providing multiple options for personal loans, there is much other information to sift through. It can be confusing. Take your time and do thorough research.
How to Check Your Eligibility for a Personal Loan?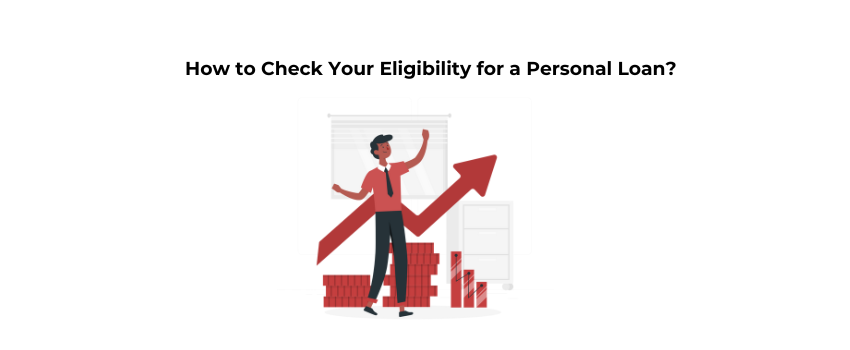 It is best to check how eligible you are for getting a loan before you apply for one. This will increase your possibility of getting one.
Keep in mind that having multiple hard credit checks in your profile in a short period of time can reflect on your credit score. You can use several types of loan checkers to check your eligibility.
There are even bad credit loan eligibility checkers that will give you an idea about your probability. Agencies like Experian, Equifax, and TransUnion will help you get the numbers right.
They will provide a free statutory report by law. This report can also be accessed from their websites as a credit report. 
Knowing what you will use the loan for is another important piece of information that you must keep handy. Most lenders like to know your plans and have clarity about the money being borrowed.
They prefer giving money for objective and practical reasons. Personal Lenders will probably not give you any loan for reasons like business, investments, timeshares, buying property, or gambling. 
Check your eligibility for a personal loan with our Loan Eligibility Checker to see which offers you're likely to get without damaging your credit score. Free and simple to use.
What Credit Score Do You Need to Get a Loan?
Your credit score plays a vital role in deciding whether you will get a loan. The better your credit score, the higher the chances of your loan application getting accepted. 
| | | |
| --- | --- | --- |
| | Good | Fair |
| Experian | 881 and above | 721 to 880 |
| Equifax | 531 and above | 439 to 530 |
| TransUnion | 604 and above | 566 to 603 |
While your score is the main deciding factor, other details will also play a crucial role in ensuring you get what you want.
Lenders look for details that enable you to gauge how well you have managed your finances in the past and get a larger picture of whether you can pay the money back.
The kind of information they look for includes details about your credit agreements, any financial links you might have with other people, if you have missed any payments in the past, CCJs, bankruptcies, individual voluntary agreements, etc. 
Different lenders have their own way of calculating their costs. So, if one lender refuses to give you a loan, someone else might find you fit enough to lend.
However, be mindful of not applying for too many loans quickly.
Your loan application reflects on your credit score.
If lenders see too many applications, they might think you are struggling financially or trying to get more loans than you can afford. 
How Can You Improve Your Credit Score?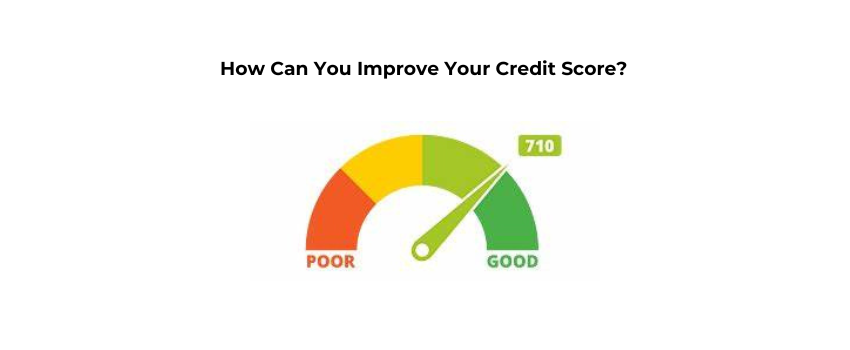 One of the best ways to ensure you get the loan is to check your lender's requirements before applying. Although there is never a 100% guarantee that you will get the loan, if you fulfil the basic requirements, you surely give yourself the best chance of qualifying. 
Additionally, if you don't have a good credit score, there are things you can do to improve and increase your chances of getting your loan approved.
These steps include not applying for too many loans within a short period of time, clearing off all your debts within your stipulated deadlines, not missing out on any payments, using only 30 per cent or even less of the available credit, keeping all your old accounts open and timely deal with delinquencies, etc. 
How to Successfully Apply for a Personal Loan?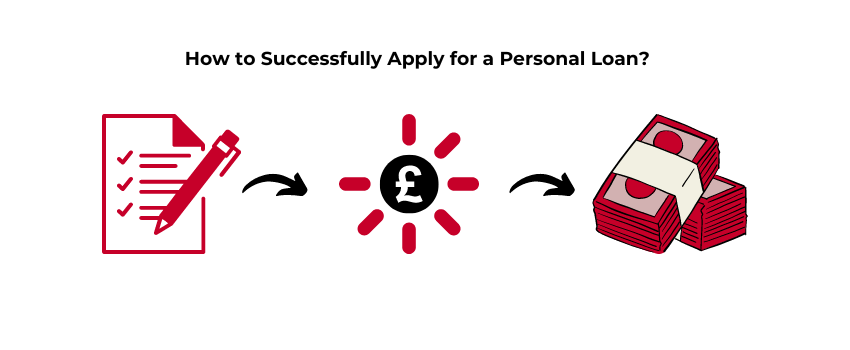 When in need, you might want to ensure that your loan application is complete with the right information and shows you in good light.
Your loan application getting rejected might show on your credit score and lower your chances of getting the loan approved.
That doesn't mean that you will not get it at all. There are tricks and tips that you can follow to make your loan application a strong contender. 
Plan your budget:

 First, check if you can do without taking a loan. If you need that money, can you save up quickly? If you must, take the as little loan as you can. Try to add something from your savings to reduce monthly instalments, etc. 

Research & weigh your options:

 The market offers many options, and if you research well, you might get a great deal. Figure out what kind of loan you are looking for. Although most personal loans are unsecured, you can also go for a secured loan option if that works out well for you. Weigh all the options and then make a decision. 

Check your credit score:

 Checking your credit score will enable you to understand your loan eligibility. You can either take professional help or check your score through a loan eligibility checker in the UK to understand where you stand. 

Build your credit history: 

A bad credit score is the most common reason for loan rejection. Checking your credit score will give you an idea of where you can improve. Pay your bills on time, minimise your debt, etc. This will show that you are a reliable consumer, allowing lenders to be more confident in you. 

Review your outstanding credit:

 It is wise not to have too many credit cards or other loans. This will reduce your chances of loan approval. Lenders would feel wary of lending you money since you would already have several other credits to pay for. Minimise these credits to increase your chances of loan approval. 

Compare lenders: 

Different lenders have different sets of rules for lending money. It is a good idea to compare lenders. You are more likely to find someone who fulfils all your requirements and gives you a good deal. 
Check your eligibility for a personal loan with our Loan Eligibility Checker to see which offers you're likely to get without damaging your credit score. Free and simple to use.
Do I Really Need a Personal Loan?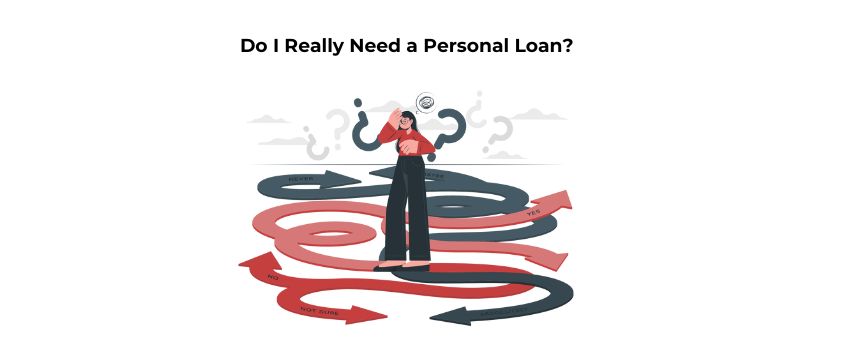 This is a question worth asking. You must be absolutely sure that you need a loan as it is a long-term financial commitment that will stress your monthly finances.
It is a commitment to pay a certain amount of money over a period of time while the interest rate accrues.
Your financial condition might change during this time, and you might not be in the same condition to pay the monthly instalments.
This is why it is also important to plan your finances.
How will you repay the loan if you lose your income source? You might take some amount out from other insurance covers, etc., but that will only add up to the overall cost of the loan. 
It is also worth considering the term of loan repayment. The longer the term, the lower the monthly instalment amount. However, you will end up paying a larger amount.
You can think of paying off your loan in advance. But do confirm early repayment penalties as certain loans come with that clause. 
Taking a personal loan is a big financial commitment. Therefore, you must weigh all the options before you go for it. Firstly, make sure that you need the loan.
If you do, go for taking a loan, do your research, get your finances in place, have your credit score sorted and find a lender who fulfils your requirements while providing the necessary support.
Taking a personal loan is a great way of supporting your financial needs. And if you work smartly, you can make the most of this support system.