Retirement or old age brings the unavoidable worry of having enough money to lead a comfortable life.
This is when you most need it, and you might have the least options for gaining access to cash. Life for the elderly is not easy.
To ensure that you get to do what you wish, especially after spending decades working hard, you must have the financial tools to do so.
Thankfully, equity release can bring you the much-needed relief you look for during your later years.
Equity release is a wide range of products that let you access equity or cash tied to your home.
You can take this money released either as a lump sum, several smaller amounts, or a combination of both.
This equity released can be then utilised for paying off debt, mortgage, home improvements, holidays, or simply living a fun life.
However, managing finances can be challenging. It is easy to feel lost between all the paperwork and difficult to understand financial terminologies and jargon, making it tough to understand what exactly equity release is and whether it is good for you.
Managing finances is not a one-size-fits-all kind of game. Every situation is different, and every home's financial solutions must also be planned accordingly.
It is quite possible that equity release is a great idea for your neighbour but not so much a useful thing for you. This is why it is imperative that you first thoroughly understand everything about equity release and then move ahead with it.
To help you understand every minute detail about equity release, we have put together this comprehensive knowledge base that will enable you to take a more informed decision with long-term implications.
What is equity release?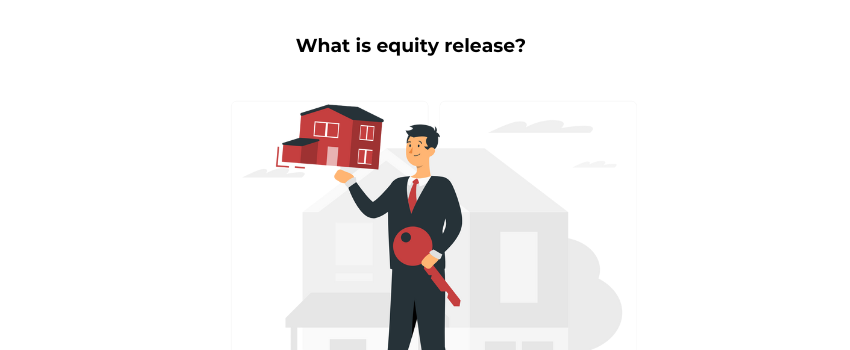 In recent years, house prices have skyrocketed. The overall cost of living has also increased, making most people house-rich but cash poor.
This means they have a huge value attached to their homes but don't have liquid money to make life easy and comfortable.
This situation has made a large part of the population in the UK uncomfortable and unsure about using up their remaining liquidity, which is again not a good sign for the overall economy.
This is why equity release is becoming popular amongst the mature population. They see it as a viable option to convert some of the value attached to their homes into cash, without having to move anywhere.
The only prerequisite for taking out the product secured against your property is that you must be above 55. Equity release is quite similar to a mortgage.
However, lenders are paid back whenever the house is sold. In equity release, there are no repayments to be done each month.
Instead, a certain amount of interest is added to the loan that is repaid in case of death or if you go into any kind of long-term care. This can increase the interest load, so it is better to seek financial assistance before taking equity release.
Who is eligible for equity release?
To be eligible for equity release, you must fulfil specific requirements. These include:
To qualify for lifetime mortgages, the individuals or the couple must be at least 55 years old.
To be eligible for a home reversion plan, you must be at least 65 years old.
Your house should be in a certain condition and have a certain market value.
You can be eligible for equity release even if you already have a mortgage or loan on your property depending on the amount outstanding on that mortgage or loan. These need to be paid off at the time of taking equity release.
If you have any dependents living with you, they will need to sign a waiver stating that in case of the death of the owner or if the owner moves into a care facility, they will no longer be eligible to stay in that property
How much can you borrow through equity release?
If everything is in place, you can borrow up to 60 per cent of the total value of your home. However, several conditions play an important role in how much money you can finally borrow.
These factors include your age, your house's worth, your health condition, etc. When taking out a product, your pay percentage typically increases with age.
So, you must be mindful of all these factors before finalising how much you wish to release and what kind of finances you plan based on the amount.
Types of equity releases
Equity releases come in two forms – lifetime mortgages and home reversion plans.
A lifetime mortgage is the most common type of equity release, where you borrow a lump sum amount of money secured against your home.
You remain the homeowner and can continue to live in the house for as long as you wish.
You are responsible for the maintenance of the house, its upkeep, repairs, bill payments and council tax, etc. You don't need to pay anything monthly.
However, the total amount you need to pay increases as the interest compounds. The sale of the house finally pays the total amount owed if the owner dies or moves into long-term care.
On the other hand, the home reversion plan is comparatively less popular. A reversion plan works by a homeowner selling the entire property or a part of it to a home reversion provider.
The total value of this sale is usually placed at 20 – 60 per cent less than the property's total market value.
You get a tax-free lump sum of money or regular payments of a smaller amount that you can utilise the way you want. You can continue to live in the property until you permanently move into residential care or pass away.
In this case, the property is sold, and the money is divided between the beneficiaries and the home reversion provider as per the percentages owed.
Is equity release a good idea?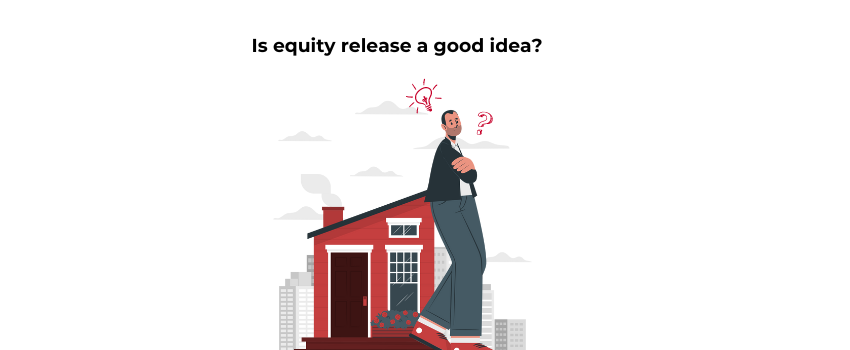 Equity release has been designed to provide homeowners with several safety measures for getting money. These include:
The homeowners can stay in the house without paying any money until they pass away or move to long-term care. This kind of facility is unavailable if you avail of retirement interest-only mortgages.
A no negative equity is a clause that ensures that the amount you finally owe doesn't exceed the total value of your property.
Homeowners are encouraged to take an independent financier's advice who will provide an unbiased and impartial opinion about what is best for them.
Equity release may not always be a good idea for you. This will depend on you and your circumstances.
An equity release can be a good option for you if:
You don't have viable sources of income, and you don't earn enough to meet your requirements.
If you are unable to or do not want to downside.
You have no beneficiaries, or if you are alright about reducing the inheritance amount that your family will receive.
If your financial advisor assesses all your circumstances and feels that an equity release is a good option for you.
What are the Advantages and Disadvantages of equity release?
Equity release can be a life-altering decision for you as it can make your life more comfortable and provide you with enough money to fulfil your needs and desires.
Even though the popularity of equity release has increased a lot due to soaring home prices and plummeting interest rates, there are some downsides to it as well.
It is important to know the disadvantages before you make a final call. Here are the advantages and disadvantages of equity release:
Advantages:
It enables the fulfilment of retirement dreams and financial independence.
You can stay in your house for the rest of your life or until you permanently move into a care facility.
You are not forced to make any repayments as the loan is repaid if you move into a long-term care facility or pass away.
The loan amount never exceeds the total market value of your home. This works really well if the house prices crash.
You can give cash to your near and dear ones before you pass away.
It also allows you to save up on inheritance tax.
Pitfalls of equity release schemes
The interest rate is fixed at all times. You might have to pay a lot more than you actually borrow.
The inheritance amount you leave for your family is reduced to quite an extent as the lender is to be paid first, and then the beneficiaries are shared the remaining amount.
If you change your mind midway and wish to pay off the interest rates, you will have to pay a hefty penalty.
If your circumstances change or your partner passes away, you might find it difficult to continue staying in the same house. If you wish to move into a smaller house, you will not be able to do so.
It can also reduce the means-tested benefits you might be entitled to.
The condition of your house is accounted for when deciding whether you will get the equity release.
How to apply for equity release?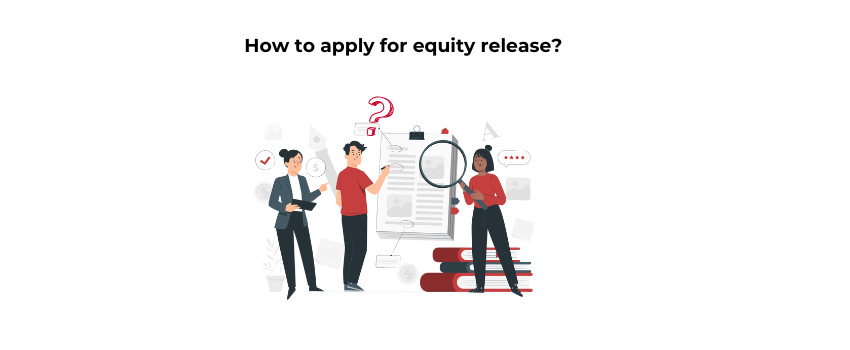 Applying for equity release comes in different stages. These stages or steps have been designed to tell you whether equity release is good for you and how you should approach it.
Seek professional advice: You must seek professional advice from someone specialising in equity release. You can choose an adviser with a specific lender or a broker who will compare all the market products and provide you with the best available option. They will help you understand important information like your age, health, lifestyle, finances, and family, what you are trying to achieve through equity release, and if you have other options to raise money. This will help you get a fair idea of how helpful equity release will be for you.
Seek family advice: You must speak to your family before deciding whether to take the equity release money or not. The debt that comes with equity release can significantly affect the inheritance you leave for your family members. They might have other ideas. Or they might want to pay off the interest rate to curb the total amount from spiralling out of control.
Forms and paperwork: The next step involves submitting your application. Getting an experienced solicitor on board for the entire process will be good. The equity release provider will review your application, do credit checks and identification, and then arrange for a surveyor to evaluate and value your property. The lender then issues the equity release and sends a copy to the solicitor, who will carry out the legal side of it before moving ahead. Once all legal aspects are cleared, you can get your money.
How much does equity release cost?
Equity release comes at a price, and you must consider every factor before going for it.
Interest rates: The interest rate on equity release is the biggest cost factor you must consider. Usually, the interest rates keep fluctuating. However, you can find them anywhere between 2 – 6%. The best equity release interest rates in 2023 have been marked at 6.97% for a mortgage or loan to a value of less than 20%. Now some options and products allow you to pay off the interest payments, reducing the total amount of loan you will eventually pay.
Set-up cost: Releasing equity also requires you to bear some set-up costs. On average, this could range between £2,000 and £3,000. The application fee comes to around £600, the customer's legal fees can be around £500 to £600, the advisor's fee is approximately £1000, and the valuation fees can vary according to the property.
Early payment fees: It is not easy to handle equity release as it has several aspects. If you wish to pay some debt off in advance, you will have to pay around 25% early-repayment penalties.
What can equity release be used for?
Once you have the money, you can use it as you wish. However, it is advisable to utilise the money judiciously as there are fewer and fewer earning options. Here are some smart ways to use it:
Pay off mortgage: This is one of the most common reasons for equity release. Paying off debts will lift the monthly burden after retirement.
Home or garden improvement: Homes always require repair and maintenance, which comes at a price. The equity release money can be smartly used to fulfil these requirements.
To boost income: After retirement, your income could be limited. So, you can utilise the drawdown from equity release for monthly top-up to your existing one.
As an inheritance gift: You can use the deposit from equity release and pass it on to your relatives as an inheritance.
To fund holidays or large buys: Spending on holidays or buying something big can be done with the money you get from equity release.
How does bad credit affect equity release?
It is possible to get an equity release even if you have a bad credit score.
This is possible because the lender is not looking for you to pay the money but to get the money back from the market value of your home.
However, they might want you to clear every existing mortgage, settle any legal proceedings or court judgments, charge orders, or individual voluntary arrangements in advance, clear all arrears on all unsecured debts beforehand, and be free of all bankruptcy charges, if any.
Will I continue to be the owner of my property even after the equity release?
Usually, you remain the legal owner of the home even after the equity release.
In some cases, especially in the case of home reversion plans, you need to sell some or all of the value of your home to an equity release provider.
Can the house be sold after taking equity release?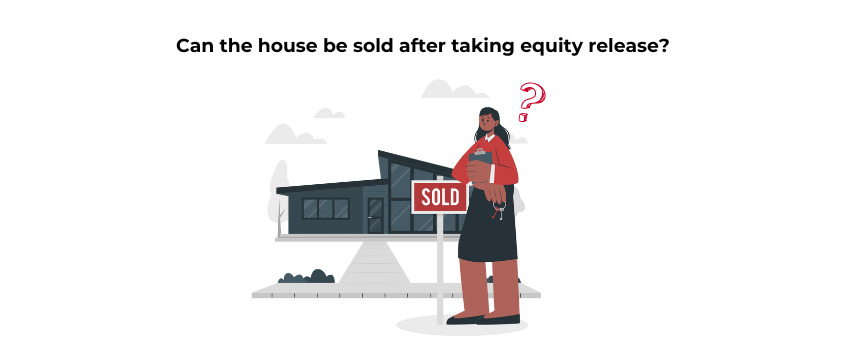 Yes, you can sell your house after equity release. However, it is good to first check with your equity release provider.
If your house meets all the criteria it sets out, you can move and take your plan with you.
There are some additional conditions as well that might require you to repay some amount of the equity release.
If your house is not worth the value enough to provide security for the debt or if your new home is not acceptable to the lender, you will need to repay part of the equity release.
Can my house be taken away with equity release?
Typically, you are still the house owner and can stay there until you pass away or move to a permanent case facility.
However, suppose you take the retirement interest-only mortgage, where you agree to pay interest-only payments every month. In that case, your house can be repossessed if you fail to pay the monthly interest.
So, is equity release safe? It is, especially when you research and make the right decisions.
To ensure this, you can utilise one or more of the various equity release comparison sites and arrive at a favourable conclusion. It will also help you in getting the best price for your property.
How long it takes to get equity release depends on the kind of equity release lender you partner with. So, it is also important to choose wisely there.
If you have all your bases clear, equity release is an excellent option to secure your retirement and ensure that your life post-retirement is comfortable and financially secure.