Mortgage repayment is the major concern when it comes to buying a property, especially for first-time homebuyers. Rishi Sunak has recently announced an emergency mini-budget to boost the sleepy housing market of the UK. Amid the coronavirus crisis, homes worth up to £500,000 will be exempt from stamp duty land tax. But are you prepared to make the investment on a home? We have mapped how much you may need to earn for covering your mortgage payments in this article. ⭐Home Improvement⭐ Personal Finance
Whether you are a first-time homebuyer or you have experienced the drill before, it's normal to think about whether you can even afford it. Buying a home is not just about how you're going to make a down payment, but whether you can apply for a loan. The answer to this question depends on – your credit score and salary. Buying a home is a huge financial commitment and hence, you must be well aware of your finances before you even start house-hunting. There are various fees and taxes that you should consider to make up your budget. How well versed are you with the process of buying a home in the United Kingdom?
This guide will take you through the entire process. We will focus on:
How to apply for a mortgage?
When you apply for a mortgage, lenders will assess your household income and the total outgoings to make their decision. They do it determine whether you will be able to afford the monthly mortgage repayments if your application is approved.
Also, a "stress test" will be conducted by the lenders to understand your financial position if the rates of interest increase or if any similar event takes place. When you make a formal mortgage application, they will perform a credit check on your profile for assessing your relationship with credit.
You may need the following documents for making a mortgage application, so keep them handy:
Utility bills
Bank statements for the last 3-6 months (current account)
Proof of identity (passport or driving license)
Proof of benefits received
P60 form from your employer
If you are self-employed, you will need to arrange for an account statement (2-3 years) from an accountant.
If you have multiple sources of income, arrange a tax return form SA302
Use price comparison websites to find the mortgage that fits your exact requirement. You will be shown the total yearly cost of the mortgage, often expressed as APR (Annual Percentage Rate). Read more about APR here that will help you to make a thorough comparison of the deal you get.
How much deposit do you need for the house?
The deposit that you need for the house depends on the cost of the house you are about to buy. Typically, you will have to save somewhat around 5% – 20% of the cost of the home. If you end up saving more than 5%, you will get access to cheaper mortgages. Suppose, you are planning to buy a house that cost £300,000 and at least you will have to save £15,000.
You may find lenders who will accept only 5% of the value of the property. These are known as 95% mortgages. While there are lenders, who may ask for 10% of the property value as deposit. First-time buyers may have to pay more than 5% as a deposit. Therefore, it is better if you can save a handsome amount towards the deposit.
Benefits of saving a bigger amount for deposit
Cheaper monthly payments: If you pay a bigger deposit while buying your house, your monthly mortgage payments will be low. That means you do not have to stretch your budget to manage the payments.
More chances of acceptance: When you are buying a house for the first time and you have saved up a good amount for the deposit, the chances of acceptance of your mortgage application increases.
Better deals: As your profile will become less risky with a larger deposit amount, you will have access to cheaper and affordable mortgage deals, which will help you in saving money in the long run.
How much you need to earn to buy a home in the top 15 cities in the UK?
We decide to buy a house when we know that we can manage our utilities and other expenses along with mortgage repayments efficiently. And that can happen only if we are earning enough to support this plan of action.
Here's what it takes to buy a home in 15 U.K. cities, according to a report by Zoopla.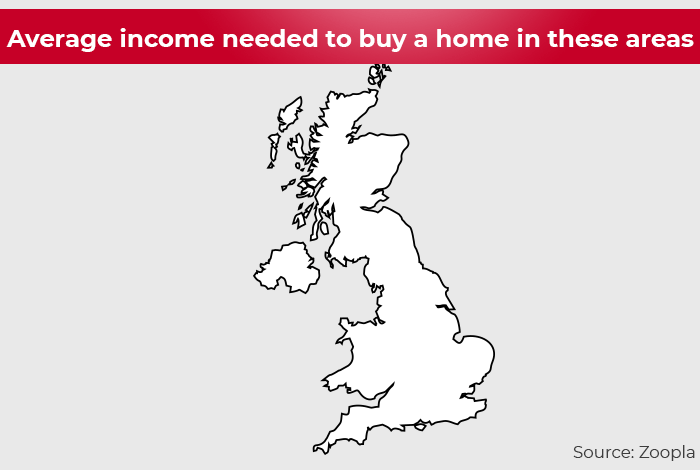 House prices have changed dramatically over the past years due to uncertainty revolving around Brexit and now because of the global pandemic. To purchase a house in one of three expensive cities of the UK – London, Oxford and Cambridge – the average household income that was needed have fallen by an average of 5% since 2016.
Despite a fall in housing prices, the average price of a house in London stands at a whooping £472,000. A report from ONS revealed that for the first-time buyers, the total cost for their purchase rose by 0.7% to £192,559.
Buying a home in a central area will cost you more because of the prime location of the property. If you do not have a budget for getting a place in a central location, you can check all the other nearby areas. While finding a property, ensure that it is well-connected and have all the basic transportation systems available.
What are the average monthly payments on the mortgage?
Your average monthly payments depend on a variety of factors. The most important factor that governs the significant portion of the money that you pay each month towards your mortgage is – interest rates. You should not underestimate the monthly payments, especially if you are a first-time homebuyer. Here are a few factors on which your monthly payments depend:
Type of mortgage you have chosen
Type of interest rate (floating or fixed)
Price of the house
Length of the mortgage
The amount that you have paid for the deposit
If you have a stellar credit score, you will get offers with low-interest rates. People with bad credit scores will have to bear high-interest rates as the risk involved in lending money to them is also high. If you have a bad credit score, take some time off. Improve your credit rating before you apply for a mortgage to avail good deals.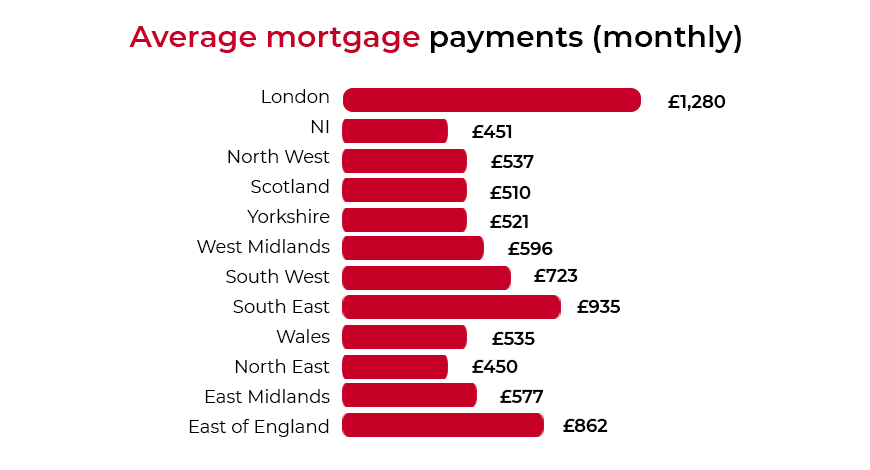 Stamp duty cut – How much will you save?
Stamp Duty is a tax that you have to pay when you are buying any property or a piece of land in England and North Ireland. Irrespective of the type of property – whether freehold and leasehold – whether you buy it outright or on a mortgage – you will have to pay stamp duty.
Recently, the rates have been slashed with an aim to boost the sluggish housing market of the UK. Previously, first-time buyers had to pay stamp duty when buying a property for £300,000 and above. Now, first-time buyers and buy-to-let investors will have to pay stamp duty on property costing more than £500,000.
That means you do not have to pay any tax on the first £500,000 and beyond this rate band, normal rates will be levied. This reduction in stamp duty is a temporary move and it is here to stay till 31 March 2021. This is the current rate band for stamp duty:
| Portion on Property Price | Percentage |
| --- | --- |
| £0-£500,000 | 0% |
| £500,001-£925,000 | 5% |
| £925,001-£1.5mn | 10% |
| Above £1.5mn | 12% |
Under these rules, you will save for money if you are buying an expensive residential property. Properties that cost £500,000 will help you save around £15,000. The average price of a property in London stands at £426,000. You will save around £6,300 on the stamp duty if you decide to buy this house.
Let us consider these 2 examples:
Case 1:
Price of the property – £700,000
Stamp duty – 0% on the first £500,000;
5% on the next £200,000
Total bill of £10,000 (previous bill £25,000)
Case 2:
Price of the property – £900,000
Stamp duty – 0% on the first £500,000;
5% on the next £400,000
Total bill of £20,000 (previous bill £35,000)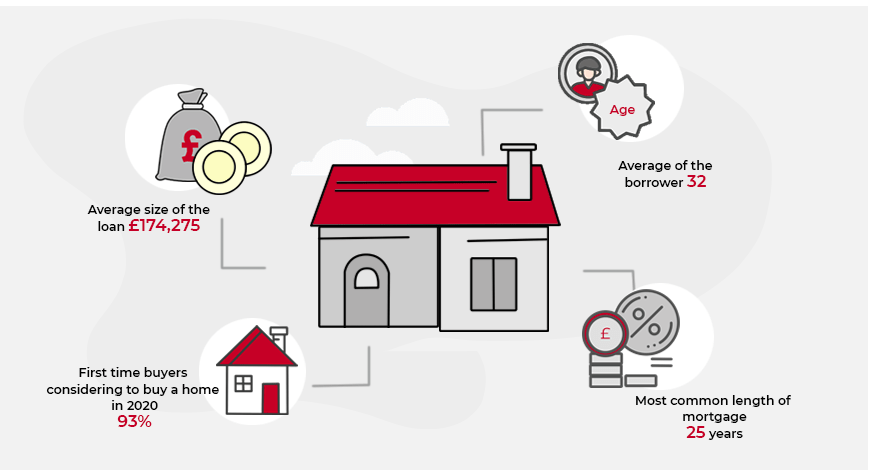 So, if you were previously planning to buy a property in the expensive areas but it wasn't within your budget – you can try now. Slashed stamp duty will help first-time buyers in purchasing residential properties in the affluent neighbourhood.
Moving to a new house Vs Improving the current house
There are pros and cons of each of these options. A lot of people may want to buy a new house on their own while others may want to make their current property better. If you are living on rent and you want to buy a home or flat – then that may be a good decision. Because the property is a performing asset and it will be one of the best investment moves.
So, let us examine the pros and cons of moving to a new house to make it easier for you to weigh your decision:
Pros of moving to a new house
You will have a modern living experience if you are buying a new home. It will give you an edge and you can design it the way you want.
The return on this investment is huge. If you decide to sell off your property in the future, you will gain high returns on it.
For many first-time buyers, buying a new home helps them to step up on the property ladder. There are a lot of schemes "Help-to-Buy", which may help you buy your dream home.
Cons of moving to a new house
You may have to go frugal and cut down on your expenses before you buy a house. Savings is important as lenders need a deposit to approve your mortgage application.
If you are buying a residential property that is still under construction, be ready for a surprise. Your move-in-date may get delayed, which will add up to your costs.
Pros of improving the current house
If you decide to improve rather than moving to a new property, you will not lose your current neighbourhood. You know the nook and corner of your locality, you send off your kids to a nearby school. Changing location may impact your daily life.
As a renter, you will not be required to pay property taxes. Taxes can be a burden on your financial health.
Cons of improving the current house
If it's not your house, improving the current residence will not help you with any monetary benefits. The improvements that you carry out will be helpful for the landlord as it will increase the overall value of the property.
Your landlord may increase the cost of rent after you perform some home improvements. It may put a strain on your finances for a very long time.
However, if you are a first-time home buyer and you may want to make some aesthetic changes in your property before you move in. Adding a kerb or garden, conservatory, redoing the kitchen and bathroom are some of the improvements that help increase the property value significantly.
Moving to a new house and staying in the current house – both come with their pros and cons. Weigh your option carefully and analyse your financial situation before making any decision.
5 tips for first-time homebuyers
Buying a home is a dream come true but it can be nail-biting if you are a first-time homebuyer. Here are 5 top tips that will help you to stay calm and do the right thing in the entire home buying process.
1. How much you can afford
Its time to get practical. Determine the amount that you are ready to invest in your dream home and how much can you afford. Mortgage payments are a huge financial responsibility. You must be aware of your affordability to pick a property within your budget.
2. Do not go over the budget
You may feel tempted to go beyond your budget when it comes to buying a home on your own. The internal gush may lead you to a debt trap. Beware when making the decision and while bidding for the property. Never go over the budget that you have. If you don't stick to the budget, you may not afford to pay the monthly mortgage payments.
3. Save for move-in and post move-in expenses
Moving costs are on the rise. The average cost of moving home is £8,885. Although this amount may change depending on your location and the area to which you are moving. Also, you may have to redo your furnishings, fixtures, and other improvements. Therefore, you will be needing money after you move-in to your new home. Save for this beforehand to avoid any trouble.
4. Choose the right location
Real estate is all about location. While hunting for your dream home, ensure that you choose a neighbourhood that has all the amenities available nearby. Also, you must check the crime statistics of the area to ensure your safety and well-being. Take a tour near your property during different times to understand it much better.
5. Compare mortgage rates
Always compare personal loans and mortgage rates before you take one. Comparing rates ensures that you find a good deal at a lower rate. There is no harm in checking out the available options that you can consider. Different lenders have different criteria for lending and hence, you will get different rates for your application for the same amount and loan term. Never forget to compare mortgage rates before making your decision.
What help is available for first-time buyers?
Government has introduced a lot of schemes to help first-time buyers climb up the property ladder in recent years. The most popular one among them is – Help to Buy Scheme. Under this scheme, first-time buyers will be offered an equity loan lent by the government, if the price of the property is not more than £600,000. If you have at least 5% deposit, you can borrow 20% of the price of the property interest-free for the first 5 years. And if you are a Londoner, the borrowing limit extends up to 40%.
Another scheme that can help first-time homebuyers is shared ownership. Under this scheme, you buy a share of a house from the landlord. The property owner must be a council or a housing association, and you rent the remaining share.
The First Homes Scheme will enable people living in England to become proud property owners in their local area. First-time buyers can build new homes or purchase existing local homes with a 30% discount, which may save them an average of nearly £100,000.
Is it the right time to buy a home?
House prices have fallen for the fourth time in a row. The Chancellor has already declared a stamp duty holiday. If you have enough financial support to get you through these uncertain times and you think you can easily manage the mortgage payments – then you must take advantage of the financial breather introduced by the government.
You can also take help of the Help to Buy scheme that eliminates the need to pay a large deposit. There are opportunities or buyers but only for those who have saved for their dream house for years. Only those people who are prepared for making this investment can reap the rewards of a stamp duty relaxation and lower house prices.
Also, as the interest rate has been slashed by the Bank of England, first-time buyers may find a deal where the monthly mortgage payment they have to pay will be lower than the rent they are currently paying.
How COVID-19 has affected the plans of first-time buyers?
The pandemic has a drastic effect on our plans – whether we wanted to go jet skiing or we wanted to get out of generation "rent". Markets collapsed and almost 25% of the country's workforce is on furlough. The government has been working fingers to the bone to keep the economy moving, however, we all are expecting a recession – which is right around the corner.
With the lockdown in place, a lot of Brits got a chance to ramp up their savings. One-third of the first-time buyers said that they have saved £100 extra each week towards their deposit. Nearly 35% of the first-time buyers said that the pandemic had no impact on their plans to buy a new home and they will definitely go ahead with the purchase.
On average, first-time buyers saved an additional £107 a week, while about 13 per cent of first-time buyers saved an extra £ 250 per year. The crisis has further improved the chances of buying first homes by making it easier for them to save towards a deposit. Less money was spent on commuting or social activities and that helped them to put away more each month.
The Bottom Line
Buying a home is a life-altering decision, especially if you are a first-time buyer. You need to extremely careful while making the decision. Discuss the financial aspect with your partner and draft a detailed plan before you start house hunting. According to housing market analysts, the house prices may not drop further. And inquiries of mortgage is on the rise as the housing market is open for business. Builders may be ready to negotiate to stir their dull business. So, if you are planning to become a homeowner this year, then you have the room for negotiation, which may get you a lower price.