A personal loan for wedding could be one of the obvious and most beneficial ways to fund your wedding, particularly if you have restricted savings. ⭐Read Facts ⭐Apply Online
Nuptials aren't generally cheap. Just name the 'Wedding' word to any planner, caterer or florist, and rates surprisingly seem to rise. But this doesn't mean that the couples shouldn't frame their dream wedding to the best- as wedding loans are uprising as a desirable and convenient option to easy financing the fantasy wedding.
Weddings are joyous events. Every bride and groom want a fabulous wedding day. But an unfortunate truth is-  marriage is expensive. And if you don't have the funds for your dream day, you might find yourself using your savings, opting for an online loan, or taking help from friends and relatives.
The average cost of a UK wedding is £27,000- with venue hire (£4,354), the honeymoon (£3,630), and the food (£3,353) cost, and even if you are saving, or getting help from family, there's still a chance that you might need a loan to top up the funds. Also, estimating the budget is one smart move to take.
A personal wedding loan could be one of the obvious and most beneficial ways to fund your wedding, particularly if you have restricted savings.
What is a Wedding Loan?
A wedding loan is an unsecured personal loan that couples use to fund their wedding day. Many lenders offer "Bad credit wedding loan with no guarantor", but it works in the same way- a personal loan does. The borrower receives the credit and then repays it over a period of time.
Some online lenders regard this type of debt as wedding loans, while others characterise it as credits used for special occasions. But most of the personal loan lenders will enable you to use a conventional personal loan to pay for your event.
Typical Wedding Expenses
Based on a typical wedding, around 50% of the budget is entitled to the venue, with couples paying on average £6000 on venue hire, food and wine. The choice of venue- have the biggest weight on the overall budget with prices ranging from a few hundred pounds to tens of thousands.
Many reviews include- engagement ring and honeymoon vacation in the overall cost of a wedding. Certain elements can vary in cost and skew an authentic depiction of the cost of the actual wedding day. But the wedding cost includes many other things apart from- rings, vacation, or outfits.
Top 10 Typical Wedding Expenses Include:
Venue hire – £5,221
Honeymoon – £4,545
Food – £4,151
Engagement ring – £2,657
Drinks – £1,739
Wedding outfit – £1,321
Photography – £1,166
Mini-moon – £1,051
Video – £1,027
Entertainment/music – £1,014
Among these top ten expenses, the three main spots consist of the venue, bridal wear, and the photography charge, with an average value of £6,000, £1,200, and £1,100.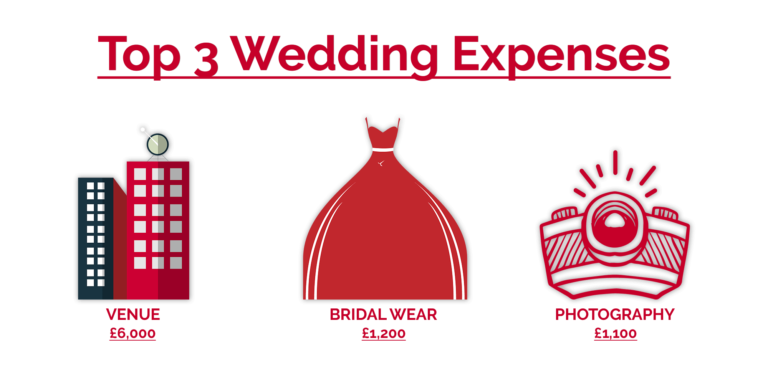 The data show- these costs are a big leap from the last year records. Couples are spending more and more! With 22% of all couples taking both a honeymoon and a small vacation.
There has been attention sounding in the wedding business that the number of couples getting married is fading. 83% felt that the cost of weddings puts people off getting wedded. Also revealing the true expense could lead to an increase in the number of weddings in the UK, with couples understanding that marriage need not be out of their reach.
Getting Hitched? Popular Months and Days to Eye On
According to the data sorted by the Guide for Brides in the UK, August was the most popular month for weddings in 2018, obeyed by July and June. This was a vital change after a strong shift towards fall weddings in 2017.
Almost half of the couples got wedded on a Saturday. With Friday, now more common than Sunday- possibly because of the higher ceremony costs on Sundays. In some cases, the British are emulating Indian ceremonies, with festivities lasting for the entire weekend, people on a tight budget are more likely to pick a mid-week ceremony. Also, this is helping around 10% to lower the prices of an average wedding, as well as easily reduce the number of guests that attend the wedding- thus decreasing costs further.
Advantages & Disadvantages of a Wedding Loan
The Upside of Wedding Loans
Although many couples have some money saved for their weddings, many other struggles to gather funds. A popular way to make up, if you shortfall is to take out a wedding loan.
With wedding loans, you neglect the need to clear out all your savings. Your parents will also feel less obligated to chip in for the cost of the wedding. Also, loans are a relatively cheaper way to help you fund your wedding, but it is crucial to read the options carefully before choosing one. It is important to keep your wedding budget under control.
Another benefit of taking out a loan- you have fixed repayments, which allows you to budget accordingly. You generally choose to repay your loan over a time frame of between one and five years.
The data collated by Equifax shows that a quarter of couples states they spend around two years in repaying their wedding debt.
The Downside of Wedding Loans
A wedding loan with an interest rate might be a very engaging proposal. However, if you are looking to borrow funds, unsecured loans have a much higher APR than secured grants.
Lenders take your credit score into account to decide what interest rate to charge and how much you can afford to borrow. If you have a poor credit history, this might mean you are incapable to borrow at the market leading rates.
Besides, if people start their marriage with debts and claims, they might be setting up for a rugged beginning.
Compare Wedding Loans
A lot of people are not able to pay for a wedding with the available funds they have. Hence, opting for a wedding loan seems like an affirmative choice. However, whatever type of loan you choose, weigh and compare for the cheapest deal. This is the best way to pay as little as possible for a loan.
You can do this quickly and easily. Compare bad credit wedding loans at LoanTube to choose a suitable loan option from the panel of FCA regulated lenders.
To apply for unsecured wedding loans, click here.