The approval of our loan application depends on a variety of factors, and credit score is just one of them. However, most of the time, an application gets rejected due to poor credit rating. A credit score does play an important role in the approval of the loan application. And improving a credit score is a long process that may take time and efforts. If you do not have much time to invest in improving your credit score to apply for a loan, a joint loan may help you out.
Whether you are facing an emergency, or you need a loan for consolidating your debts – a joint loan can certainly help. Let us understand more about this financing option in detail.
What is a joint loan?
A joint loan is a loan that is borrowed jointly by 2 or more individuals. Usually, couples or business partners borrow such type of loans. The credit scores of all the individuals involved are taken to assess the loan application. This makes it comparatively easier to qualify for the loan.
If your credit score is restricting you from borrowing a personal loan and your loan application has been declined – you can also ask your friends and family to help you borrow a joint loan. So, when you apply for a joint loan, the lender will assess the credit profiles all of the involved borrowers.
That means if you have a low or bad credit score but the person applying for the loan with you has a stellar credit profile – there are fewer chances of getting rejected.
What types of joint loans can be taken?
You can choose to take a wide range of financial products jointly with your partner, friends, family or business partners. For example:
1. Secured Loan
You and your partner can take out a secured loan in the form of a mortgage to buy your dream home. Mortgage applications are assessed thoroughly and have high chances of getting rejected. But if you have a partner who has a stellar credit report, your mortgage application is more likely to be accepted.
Learn more about shared ownership and how it works.
2. Bank Overdrafts
Do you already have a joint bank account? If yes, you can use an authorised overdraft to help you pay for your expenses. Your bank will run a complete credit check before confirming on the overdraft limit. Ask your partner before you make the decision to use the overdrafts or else it may lead to disagreements.
3. Unsecured Loan
A lot of lenders and banks also offer joint unsecured personal loans that can be easily borrowed by couples, friends and family. Also, if not a joint loan, you can take out a guarantor loan by asking your partner to co-sign your loan application.
Read more about co-signing a personal loan application.
What are the pros and cons of a joint personal loan?
You may assume that when you get a joint loan or mortgage with your partner, you're just liable for the half of your share, but that's not the case. If your partner fails to repay the loan, you are liable to repay the entire debt on your own. When you take out a joint loan, you sign a legal document and agree to repay the debt in case your partner fails.
It doesn't matter who spent the money, or who owns the item that was purchased using the funds. A joint personal loan means joint responsibility and financial liability.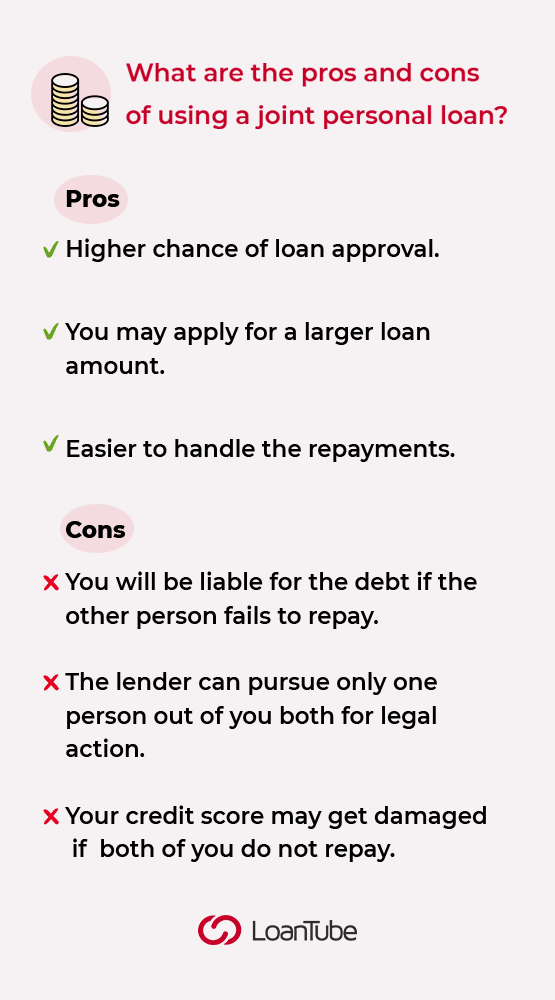 Can I apply for a credit card jointly?
No. In the UK, you cannot apply for a credit card jointly with a partner. There's always a main cardholder who is known as the primary cardholder. The primary cardholder is responsible to repay the credit card debt in full.
Suppose, you are the main cardholder. You can choose your partner to become secondary cardholder on the same account. However, please bear in mind that the secondary cardholder is not responsible for making any payments on the card.
How a joint loan application increases the chances of getting credit?
Applying jointly for a loan will also increase the odds of having a loan. However, if either of you has a bad credit rating, you should not apply together. This will impact your chances of getting approved for the loan. If anyone of you has a bad credit rating, you can go ahead with the application.
Remember, once you have a shared loan with someone else, your credit file would be connected to theirs. It means that if you were to apply for a loan on your behalf in the future, the lender will access the financial history of the other party and take that into account, as well as your own.
Both you and your partner should review your credit report before applying for the loan.
5 Questions to ask yourself before taking out a joint loan
Before you sign on the dotted line, you must be willing to take the risk with the other party(s) involved. Here are 5 basic questions that you can ask yourself before you take out a joint loan:
Can you afford to make the repayments? At least your share of payments?
Can your partner keep up with the repayment of the loan?
Do you trust on your partner that they will not put you in any financial trouble during the loan duration?
Can you afford to make the complete repayment if your partner stops making the payments?
Have you looked out for any other viable financing options?
Taking out a loan is a huge financial commitment and there are several risks associated with it when you are borrowing a loan with your partner. Carefully consider all the pros and cons before reaching to a conclusion. And also, find out any other feasible options that may serve your purpose.