We spare no effort when it comes to managing our personal finances.
However, finding the right budgeting system is challenging. LoanTube will help you to explore the top 5 budgeting systems that you may find worth sticking to.
With only 2 months left for 2019 to get over – how many of us have really worked towards a healthier financial life? Every year when it's time to change the calendar into a new one, we all make some hard and meaningful resolutions. However, most of us fail to achieve that.
When it comes to personal finance, we go length and breadth to explore and experiment with various budgeting tricks to save some money.
Yes, there is a wide array of budgeting systems, tips, and tricks – which can be beneficial only if you implement them the right way. In addition to that, choosing the right budgeting system is crucial.
A budget is a plan that you create for your spending plan. It is easy to lose track of the money that we receive every day if we do not track our expenses.
And sometimes, we may also end up spending more money than required in the first place. Therefore, a budget is extremely necessary to help us stay on top of our finances. With the help of a budgeting system, it will be easier for you to prioritise your expenses.
Types of Budgeting Systems
There are 5 types of Budgeting Systems
United States Senator for Massachusetts, Elizabeth Ann Warren created a 50/30/20 rule that aims to help people achieve financial steadiness by spending their monthly income in 3 categories – Needs, Wants, and Savings. This guideline is very simple and easy to implement as it distinctly segregates and prioritises your expenses.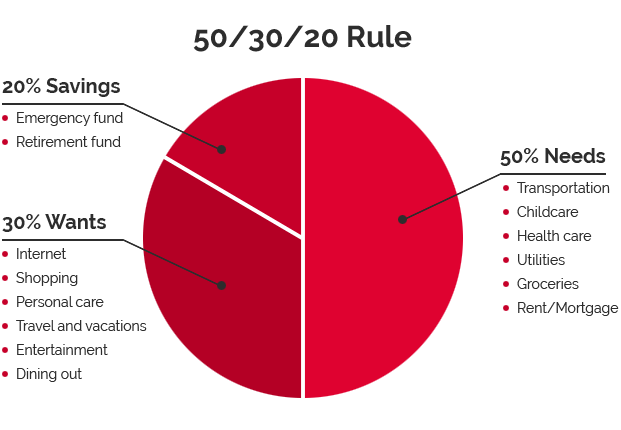 Calculate the amount of money that is left after you pay your taxes and then allocate 50% of the money or your "after-tax income" towards your needs. It can be the rent that you pay towards the home that you live in, any mortgage, groceries, utilities, health care, commuting and transportation, etc. Carefully pick out areas that you think are a need so that you master your spending habits. Assign 30% of your money towards your "wants" such as internet bills, cable connections, personal care, or shopping. You may also keep aside the money for your travel plans. You must spend at least 20% of the money on building your savings. Create a retirement and emergency fund and start building it for your future.
If you consider yourself an impulse shopper and feel that you splash away all your money frivolously – then this budgeting system may work for you. It is always recommended to use cash as it becomes easier to track cash expenses. Mark the envelopes with the particular category of "expense" that you are planning to carry out and put inside the allocated amount of money. For example, you have allocated £250 for your monthly food and dining expenses. Put £250 inside that particular envelope and use money from that envelope whenever you are shopping for your food. In that way, you will know how much amount is left for your food expenses. That will allow you to stick to your budget and limit overspending. This is one of the most systematic ways of spending and saving money.
Traditional Budgeting – Pen and Paper
Most of us find the traditional approach more appealing and beneficial. Using a pen and paper to list down your earnings, expenses, and savings can also add fun to your life. We barely hold a pen and write something down on a piece of paper in this age of digitalization. Set up your monthly budget and write it on the top of the sheet. Every time you make an expense, mark it down on the sheet and deduct the amount from the budget that you had set earlier. The list must include everything that you spend. It is very simple, easy, and convenient as it doesn't need a lot of effort. However, you must be careful with the calculations so that you do not make any mistakes.
The app store is full of budgeting apps that we can use for our benefit. Please bear in mind that not every app is designed to suit your taste and preferences. To find the right budgeting app, download 4-5 different apps and check their usability. Stick to the one that you find suitable according to you. There are a lot of free applications in the store and a lot are paid. So, choose wisely. Such apps are great for building your financial stability as they allow you to see real-time data on your expenses. With just a tap, you can set up your budget and it also helps you in cutting down unnecessary expenses. Basically, an app will give you a digital dashboard of your current money-saving goals.
Zero-Based Budgeting System
This is the easiest budgeting system. A zero-based budget means the result of your income minus your expenses should be equal to zero. That doesn't mean that your bank account will be nil. You have to put everything into the expense category. For example, you earn £300 every month, then you have to add whatever you are spending, saving, investing, or repaying to the list of expenses. And when you subtract the income from your expenses, the result should be zero. This way you will have a clear idea of where your money is going. However, you need to be careful or you might end up spending everything from your income.
Final Takeaway
Each one of us takes home a paycheque that is different from one another. And everyone has a different set of goals, needs, and wants. One type of budgeting system may work wonder for us, while that budgeting system may prove to be a complete disaster for someone else. Choosing the right one according to your income, expenses, and priorities are significant to build your financial future. Another deciding factor is – how you stick to the budget that you've prepared. It is easy to draft one but difficult to stick to if you cannot control your spending habit.
Happy Budgeting!